Well, I'm finally able to get some of our pictures from
Dublin
posted. This first set is from April 18 which was our first full day there. Since it was a nice and sunny day I insisted that we visit the
National Botanic Gardens
. I went crazy with the camera, as you might notice. I love tulips, so I loved the long rainbow-colored lane of just tulips. They had a great variety of them! And the few carniverous plants were neat, although they didn't o any bug-catching while we were there. There were squirrels there that come right up to you for food. A random guy gave us some sunflower seeds so we could feed them. They would all but eat the seeds out of our hands (which I know from persoanl experience is a
bad
idea anyways).
The other main highlight of the day was a tour of Kilmainham Gaol. By the way, "gaol" is pronounced "jail." I kept trying to figure out if it was pronounced "gowl" or "goal" or "gal." Imagine my surprise when he said "jail." Sheesh. But it was a good enough tour! That jail has a bit of a gruesome history with it's massive number of hangings, political executions, and imprisonment of children. The guide told a bittersweet story of a man destinied for execution who was allowed to marry his finace before the event. They marched her into the jail chapel, they were married and she was marched right out. The next day she got to see him one last time and he was taken out and executed. Note: More after the pictures!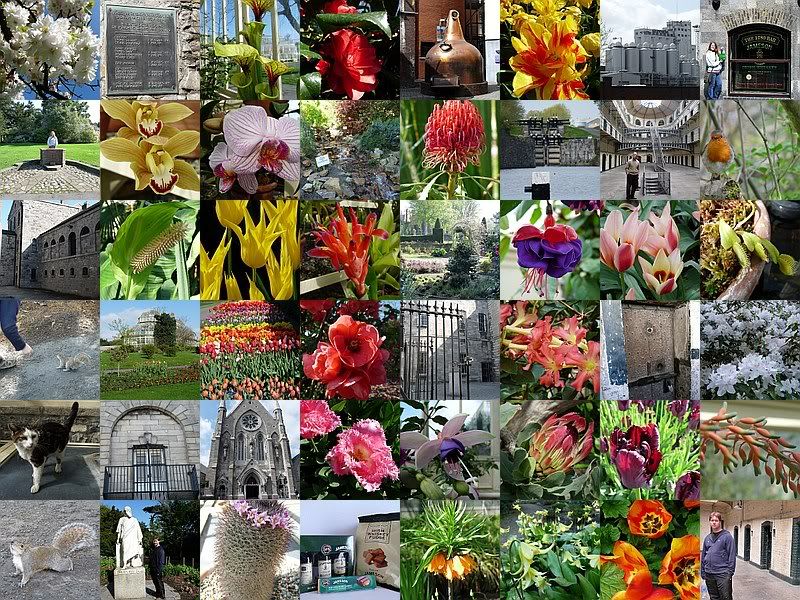 The next day, the 19th, we went to
Trinity College
to see the
Book of Kells
. It's definitely an impressive book - made around 800 AD I think. It's a religious text with beautiful and elaborate illuminations throughout. So much time, energy, and devotion has gone into it. We also got to see what's known as the Long Room. It's a... well, a long room. Filled with two stories worth of books.
Old
books. I loved the smell when we stepped in! The smell of old books. We weren't allowed to touch any of the book though, boo.
We sort of wandered around and ended up down Grafton Street, which was jam-packed with people and performers. There was a really good string quartet actually. We also spent a bit of time in St. Stephens Green (another of the many beautiful parks all over the UK and Ireland). We ended up at the
National Museum of Ireland: Archaeology
purely by chance, which was great because it was free! The best exhibits here were four very well preserved bodies. Two of them still had full heads of red hair attached to their squished heads. One even had a tuft of red hair attached to his chin. Another had nearly untouched hands - they might have belonged to a living body except for their unnaturally dark color. You could still see the pores in their tightly stretched, leathery-looking skin. Sorry if I'm grossing anyone out! They were by far the most exciting thing there though, in my opinion.
And I have to mention that we passed by a lamp post known as "The Five Lamps" because it has five lamps at the top of the post. I had to stop by and take a picture of that.

I have more that I should be able to post tomorrow or the next day. So if you want more, it's coming!