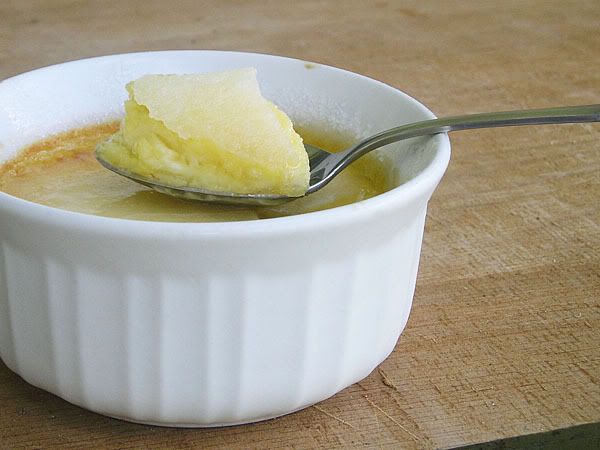 Yes, delicious creme brulee. And see that lovely little
ramekin
that it's in? That was bought for me (along with three others) by the wonderful Mr. C for my Birthday! Yes, I recently had a birthday. The big two six. It was a very good birthday though, despite the fact that I am, once again, one year older. Nah, getting older has it's
perks
too I'm sure. I mean, once you hit 65 it's like you're a student again - cheap(er) movie tickets, all right!
So for the Birthday celebrations my Mom cooked up a delicious curry for the family and friends that came over. She did a great job, especially with the toppings which included: shredded coconut, peanuts, mango, kiwi, homemade ginger-glazed walnuts, homemade candied ginger, and possibly some other yummy items I can't currently recall. And yes, when I say "homemade" I do mean that my Mom made them herself (she uses the left over syrup from the candied ginger to glaze the walnuts - how clever is that). So I guess what I'm driving at here is that dinner was indeed delicious.
Lots of sitting around talking and laughing, a bit of frantic gecko catching (we didn't end up successfully catching him though), some present opening. I was actually really surprised that I got any presents! I really wasn't expecting anything, so I felt all warm and fuzzy when I got stuff. I even took pictures! I especially love that one t-shirt with the little cloud - he's "passing lighting." Get it?? And then he's all embarrassed in the last frame. So cute. And the
"I *heart* lamp" shirt
has significance to me personally. Lamps are very important to me.
And for anyone interested I will will discreetly post my WistList here...
Very discreetly...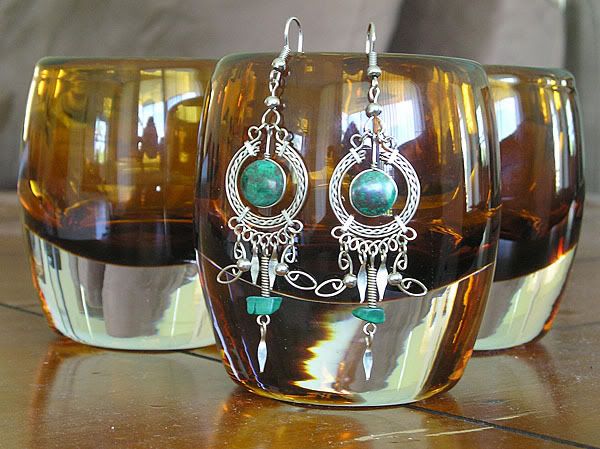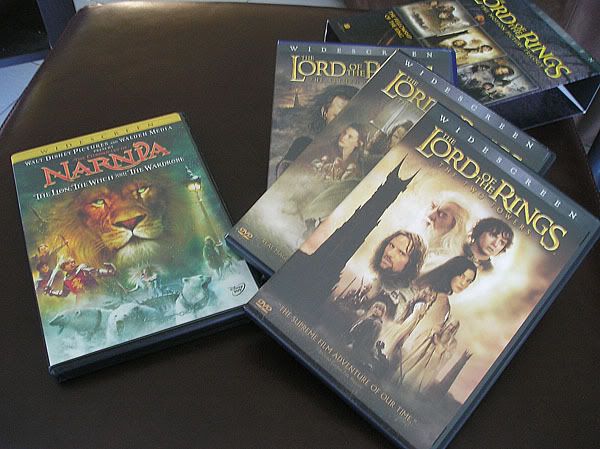 And I have to mention the dessert -
Pavlova
. No birthday is truly complete without a Pavlova. And Mom makes the best Pavolva you have ever tasted. I don't think I've ever met a person that hasn't thought it was delicious. Even the picky eater at the party liked it enough that he wanted to bring home a slice. It was topped with whipped cream (
real whipped cream
, not that spray-can crap), strawberries, kiwi, and home grown passion fruit. Man it was good! So thank you to Mom for yet another incredible Pavlova! I should post that recipe one day actually...
Ok, it's finally creme brulee time. Since I got those little ramekins I had to try and make
something
. Mr. C and I watch Hell's Kitchen and they frequently have this as a dessert so I decided to give it a shot. Easy enough to make. Since it used only egg yolks I saved the whites and made myself a corn-and-cheese omelet the next day, hehe. I've put my thoughts about this dessert in the verdict section.
Notes
When adding the final hard-sugar topping I think I added too much sugar. When I put it under the broiler (even though the ramekins said "no broilers allowed") to melt the sugar it made a really thick topping. You had to bang it pretty good with the spoon to get through to the creme part.
The Verdict
It was good but over all I just wasn't too excited about the end result. I've never had creme brulee before though, so maybe I'm just not a big creme brulee fan. It was very creamy and smooth, which I'm assuming is a good thing, but for me it was just
too
smooth. I also think I would add a bit more sugar if I made it again. O, and the lack of a little blow torch to brown the sugar was a bit disappointing.
And here's the super-simple recipe from
About: Gourmet Food
(I used half this recipe because 8 creme brulees is a lot):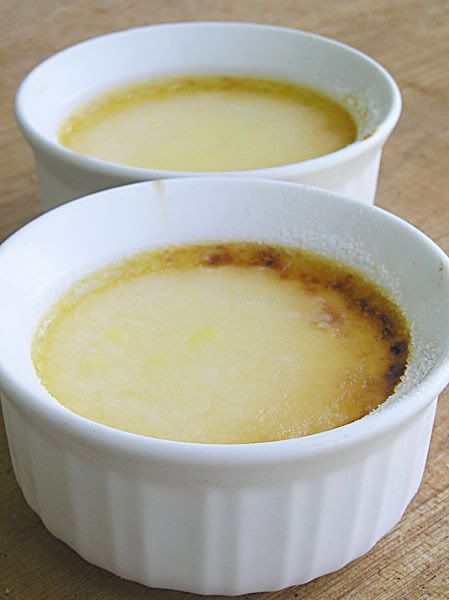 Ingredients
4 cups heavy cream

8 egg yolks

1/2 cup sugar, plus extra for sprinkling

1 Tbsp vanilla extract
Makes 8 servings.
Directions
Preheat oven to 300° F. In a saucepan over medium heat, combine cream and 1/2 cup sugar. Cook while stirring until cream just begins to bubble (about 4-5 minutes).


In a bowl, beat egg yolks and vanilla until well blended. Yolks will become a light yellow. Gradually pour hot cream into yolks, stirring constantly. If the mixture looks a bit grainy, strain mixture through a sieve set over a bowl.


Pour the custard into 8 6-oz ramekins (custard cups). Place ramekins in a baking dish and add hot water to fill pan halfway up the side of the ramekins.


Bake until set, about 40-45 minutes, until custard is mostly firm but the centers of the custards shake gently when tapped. Remove from the oven and allow the ramekins to cool slightly.


Remove the ramekins from the pan and refrigerate overnight. Just before serving, sprinkle the custards with 2 teaspoons sugar and caramelize the topping by placing under broiler until sugar is a golden brown (about 3 minutes). Watch carefully to not burn the sugar. Alternatively, use a handheld propane or butane torch to caramelize the sugar.


Optional: Top finished custards with fresh berries, mango or peach slices, or other fresh fruit.