The small town of Benitses is on the island of Corfu which lies on the north-west side of Greece. It's a quaint, but fairly touristy little fishing village with pebbly stretches of beach on one side and modest green mountains on the other. This was where we were headed. First we had to figure out how to get there from Corfu though. From the ferry terminal we walked aimlessly, looking for the bus station. I stopped into a BP gas station (yes, they have BPs) and asked the attendant who pointed me back in the direction we had just come from. We walked a bit and came to an intersection that we had seen a bus turn down so Chuck actually flagged down a motorcyclist and asked directions. I was surprised that he actually stopped and pulled over to the side of the road to help us. With a smile no less. If it had been me being waved down, I'm ashamed to admit I probably would have averted my eyes and kept going. He pointed us up the street and finally we came to the bus station! We caught the next bus out of town and landed in Benitses. Standing on the side of the road with our backpacks in place, we were once again at a loss as to which way to go. We started off to the right and as we passed a scooter rental shop we must have looked really lost because the owner asked us where we were headed. He Pointed us in the right direction (which was the way we were headed) and soon enough we found the place, got checked in, and settled into our little room. It was a cozy place with a tiny balcony looking up towards the mountains. Across from us was the skeleton of an unfinished concrete building and to our right was a giant wild grape vine dripping with deep purple grapes. The bathroom was small and the shower consisted of a square porcelain platform and a faucet. You can run the faucet trough the hand-held shower handle or through the tap as though you're filling a bathtub - I don't understand this because it would very quickly flood the bathroom, which might not be such a problem now that I think about it because there is a drain in the middle of the floor right next to the toilet. There's no shower curtain so either you're supposed to be very good at aiming the shower head only at the wall behind you, or you're supposed to just go wild and spray down the whole bathroom. I found I didn't have to worry about this too much because the shower never got warm enough for me to even want to take a shower. I flipped my head upside down over the shower "square! and washed my hair that way, then just did a quick wash-down of the other important parts before jumping out and shivering. Bleh. I hate cold showers! Enough about that though, let's get to dinner. We sit down in the outdoor-seating area of
Tony & Alex
and I look over to see a teenaged, orange and white striped kitten slink lazily from one of the other chairs. She did a little yawn and stretch, her adorable paws kneading against the ground. I squealed and pointed her out to Robyn and Chuck and to our delight she came right over to us with a meow. I couldn't resist picking her up. She was more than happy to be in my lap. We passed her around cooing over her non-stop. I knew having a stray cat sitting at the dinner table with us was a bit...well, dirty, and I could just picture my parents ordering us to put her down, but I didn't really care. She was soooo cute. We did put her on the ground during dinner, although she stayed and begged for our food. The waiter suggested we take her with us because she begs for food from everyone and is annoying in their opinion. I would have loved to take her but...we're traveling. It would be seriously annoying. I even thought of sending her home to Mom or Dad, but I figured they probably wouldn't really appreciate the souvenir all that much.

We woke up on the 2nd to a slightly overcast sky. We had a breakfast that was pretty good and shared all our jam and honey with the many bees that were buzzing about. One even landed on my finger to eat the jam off of the toast that was in my hand! I'm like the bee whisperer. I gave myself a haircut back at the room after we ate. It's been getting scrappy and the ends were severely split. It's not a great haircut, but it's even enough and my hair is feeling much healthier. Robyn really wanted to rent scooters to drive around the island on so we went down to a rental place (there are lots of them) and worked out a deal for one scooter and one 4-wheeler for €30 for the day. I decided the 4-wheeler would be better for me because I've never ridden any sort of motorized 2-wheel contraptions before, and as you'll see later on, that was a good choice. When the dealer found out which hotel we were staying at he asked us cheerfully if we knew the two American brothers who were also staying there. They had apparently rented scooters the day before. Nope, we don't know them! I rode out of there on my kickin 4-wheeler, Chuck on the seat behind me and Robyn hot on my heels. We were given practically zero gas in our tanks so first order of business was a fill up. Gas stations here are not self-service so we had a fella pump our gas for us and off we went, this time with Chuck driving and me on the back. We just followed the coastline, which was pretty but would have been really amazing if it had been a sunny day. We stopped for a few photo-ops and at one stop I found some wild blackberries growing on the side of the road. I managed to drop one while I was eating and we found it later, squished into a purple mass between me and Chuck. Chuck had to throw his shirt out at the end of the day... I felt bad. It started to sprinkle in the early afternoon which feel like little needles driving into your skin when you're cruising down the road at 40 kmh. As it started to come down harder we came upon a little fishing town complete with gnarly fishermen with unkempt hair wearing rubber overalls, who glare at you from their well-used boats as they untangled a massive pile of fishing net. We stopped here for lunch at what ended up being a pretty nice place while the rain came down. The food was good and waitress was nice and by the time we were finished the rain was too. It was exceptional timing. Back on our 4-wheeler and scooter we headed down to the southern part of the island. We were trying to make our way to a lighthouse that we saw on the map, but couldn't figure out how to get there. We ended up on a dirt road in some field and decided to give each others vehicles a try. Robyn didn't much like the 4-wheeler. Chuck tried the scooter but said it was too different. I didn't like the scooter because I ran myself into a ditch. I don't think I'm meant for scooters. I was trying to turn around on this dirt road and was pretty much walking the bike. I gave it a bit of a rev to help with my forward momentum and boom! Into the ditch! I ended up with a pretty bruise where the handle dug into my thigh too. We even got the whole thing on video, lucky me. Two videos actually. Needless to say, no scooters for me! We reverted back to the original set-up - Chuck and me on the 4-wheeler and Robyn on her scooter - and headed down to Kavos, then back up to Benitses by 5:00 or so. After it got dark the sky let loose and it poured for the rest of the night.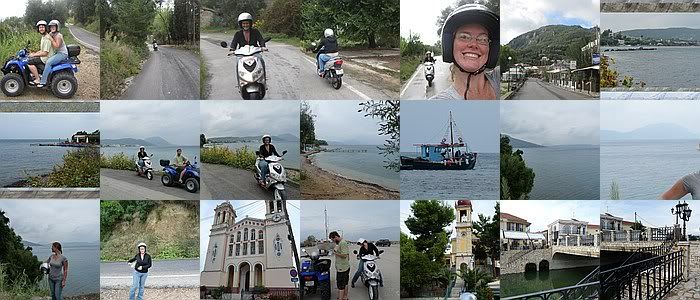 Unfortunately, the 3rd was worse than the 2nd in terms of weather. It rained all day long. We only managed to get out to the restaurant across the street called
Big Bite
. I've noticed that the island of Corfu seems to cater to British tastes because all of the restaurants have English names, and most of them seem British-inspired.
Big Bite
for example, had on their menu a full English breakfast. They also had a little kitty on their patio, but she wasn't as friendly as the one from the other restaurant. The waitress had a Scottish accent so we talked with her for a bit. She was from just south of Glasgow and was working in Corfu where her Mom likes to vacation a lot. When she found out we were leaving the next day she asked us if we knew the two American boys from California who were staying at our hotel, because they were leaving tomorrow too. We all laughed and figured it was the same brothers the scooter rental guy had mentioned. We joked about how we should find them and ask how they liked their scooters, how they liked
Big Bite
and if they wanted to catch a ride with us to the airport tomorrow for their flight back to California. They'd possibly think we wee stalking them, unless they too had been hearing about "the two girls and a guys who rented scooters and ate at
Big Bite
." We never did end up seeing them though. The rest f the day was spent inside listening to the rain. Corfu knows how to have a storm - there were frequent cracks of thunder that had me jumping in surprise. I love storms like that. The power even went out for a few minutes at one point.
We went back to
Big Bite
in the morning for their English breakfast. Oh man, was it good to have a real breakfast again! I tell you, these Europeans have wimpy breakfasts... We got hash browns, eggs, grilled tomato, sauteed mushrooms, baked beans, fried toast and jam, and tea and it was delicious!! The sun was shining today. Just our luck, seeing as we were leaving. We hung around the hotel until about 1:00 and then caught the bus into town. I took pictures along the way to try and capture the island when it's nice out. Back in the main town of Corfu where the ferries leave from we tried to find where to buy tickets. As we were walking around it started to, once again, get overcast and drizzly. We walked all the way down to the ferries and were told to go back up the road to the Minoan Lines office. From there we were told to go even further to some other office. So after about 45 minutes of waling around we finally had our tickets in hand and went to wait for our ferry. The ferry ended up being abut 45 minutes late, which had us on edge about catching the bus to our hotel that night. Even if the ferry had left on time we would be cutting it short. But there's nothing we could do about that. So we just sat back and enjoyed the ride.