So for the lovely month of December I did as I have done for the past two years and had myself a Cookie Decorating Party. Well, it wasn't quite a party - more like a small gathering I suppose. But that's beside the point! I had friends over and forced them into slave labor not only by making them bake and decorate cookies, but also by making them decorate my tree!! They liked it though, I'm sure.

But really, this time of year is the time to get together with friends and family and I was really grateful to have my friends close by me this year. The past three years I had been in California, where I developed what I'm now calling my Cookie Decoration Tradition with Mr. C. I am very happy to be able to share it with some more of the very special people in my life!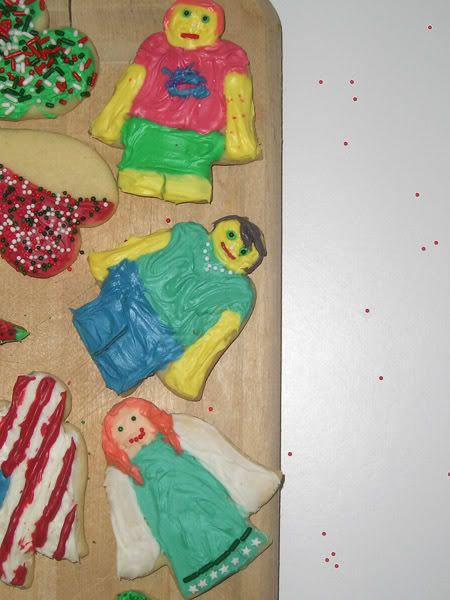 So yes, Dela, Jessica and I slaved away in the kitchen stirring up the dough, rolling it out, cutting little cookie shapes. Then after they were baked and cooled the truly challenging part came. One never does realize how few creative ideas one has until they are confronted with 30 or so cookies to decorate. Let me tell you, it's daunting. I usually start off with a couple of bland creations as I warm up to the task. Then I pop out a few really snazzy, dazzling cookies and am suddenly left drained of inspiration. That's when I just slather on some icing, toss a few sprinkles and call it done. They all look great lined up on the tray no matter what though! By the way, pictured to the right are two of my more amusing creations: the top cookie is me, middle is Dela, and the bottom is Jess (she made that one). Anyways, the true purpose of this blog entry is to share with you the wonderful recipe for sugar cookies that I have successfully used thus far, so I'll move on to that part.

Notes
The cookies retain their shape and size while baking - they won't spread or get poofy, so make them pretty before you pop them in the oven!

I don't recommend skipping the chilling of the dough - it makes it much easier to work with when it's nice and chilled. And to keep it all manageable I only worked with a small ball of dough at a time, leaving the rest to stay cool in the fridge. After I rolled it out and cut some cookies once, I balled up the scraps, put the back in the fridge and pulled off another ball of already-chilled dough. Rinse and repeat.
The Verdict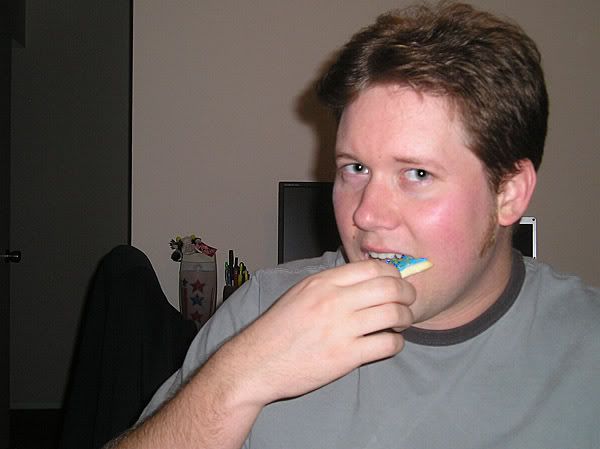 Of course they were good. I imagine it's hard to mess up sugar cookies, but I do particularly like the density and texture of these ones. They're weighty enough to hold their own with a nice thick frosting slathered on top. Mr. C liked them too, as you can see to the left.
The recipe is from trusty old AllRecipes.com and submitted by Jill Saunders: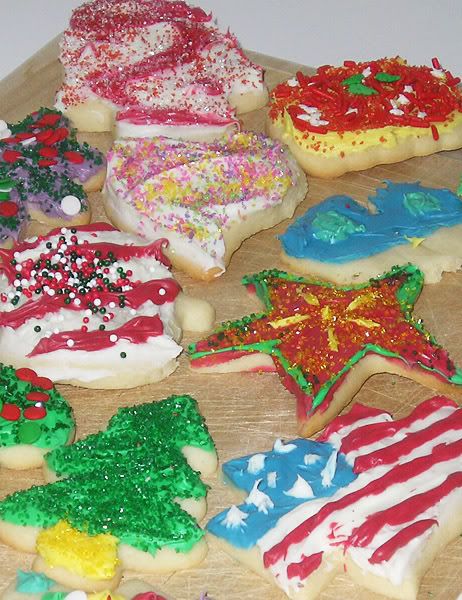 Ingredients
1 1/2 cups Butter, softened

2 cups White Sugar

4 Eggs

1 tsp Vanilla Extract

5 cups All-purpose Flour

2 tsp Baking Powder

1 tsp Salt


Frosting (I bought some Betty Crocker frosting at the store, Eeeps! I'm terrible, I know!)

Various Sprinkles
Makes about 60 cookies (depending on how thick you roll them).

Directions
In a large bowl, cream together butter and sugar until smooth. Beat in eggs and vanilla. Stir in the flour, baking powder, and salt.


Cover, and chill dough for at least one hour (or overnight).


Preheat oven to 400 degrees F (200 degrees C). Roll out dough on floured surface 1/8 to 1/4 inch thick. Cut into shapes with any cookie cutter. Place cookies 1 inch apart on ungreased cookie sheets.


Bake 6 to 8 minutes in preheated oven. Cool completely.


Slather with frosting and sprinkles.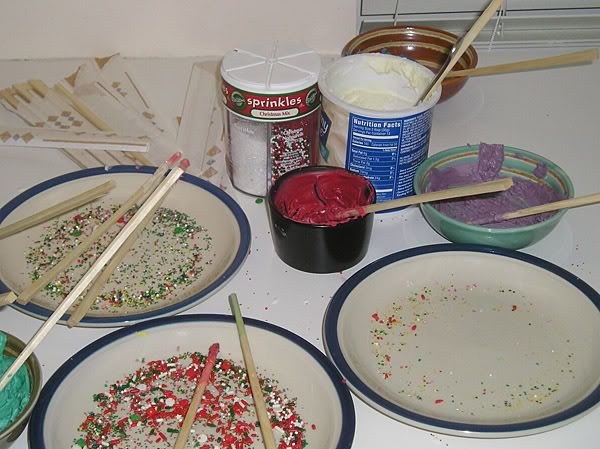 Frosting Tips:
Let me share our frosting set-up. We made multiple colors of frosting by just mixing food coloring to our hearts desire with white frosting. If you need to soften your frosting a bit just stick it in the microwave for 5 seocnds (no more than 5 seconds at a time!). We used disposable chopsticks to spread the frosting as I decided butter knives would be far to unwieldy. And we put the cookies on plates when we used sprinkles so they wouldn't go all over my kitchen.