NOTE:
When looking through the pictures on Panoramio you can click on the picture to see a larger version if you'd like! Jut thought I'd let you know.
I believe I left off at our first visit to the Natural History Museum on the 22nd. Well, on the 23rd we went back for more. Partly because we didn't have enough time to see the whole museum, but mainly because the camera battery was dead and I didn't get all the pictures I wanted. I wound up with a ton of pictures in the end, but I won't make you sift through all 250 or so... Just the highlights.
We went back through the primate exhibit to the rock room first. I got all the pictures of the pretty rocks that my heart desired. I separated the photos for you as well: I made a separate link to the pictures of just rocks below the ones from the rest of the museum. I did put some pictures of things like diamonds and emeralds in with the main pictures though. The have the Star of South Africa which is a 47 carat diamond. They also have the Devonshire Emerald (1384 carats, but with a lot of imperfections), the Latrobe Nugget (717 gram nugget of crystallized gold), a cubic zirconia replica of the Koh-i-Noor (a 105 carat diamond that has been around for hundreds of years at least, changing hands via violence and trade), a rock from Mars, etc. One of the most interesting displays is their Aurora Collection. It's a collection of 296 different colored diamonds, each no bigger than a pinky fingernail or so. Every few minutes a blacklight illuminates the display making all the diamonds glow their fluorescent colors. I didn't manage to get a picture, but here a link to what it looks like under the blacklight:
Aurora Collection under blacklight
.
We walked through the museum getting a few missed photo opportunities from the day before then went around the corner to the science museum. Unfortunately the science museum wasn't as cool as I was hoping it would be. It was huge though - 5 or 6 floors I think. They did have some neat displays of various old steam engines that would come to life, gears spinning and rotating when you pressed a button. They also had an impressive display of miniature boats that was cool. So there were a few cool things, but it just didn't grab my interest like some of the other museums have.
We didn't spend long there and soon were back at the place we're staying. We made chicken divan for everyone for dinner. Our British hosts seemed to like it! I hope it was American enough to be considered an "America dish."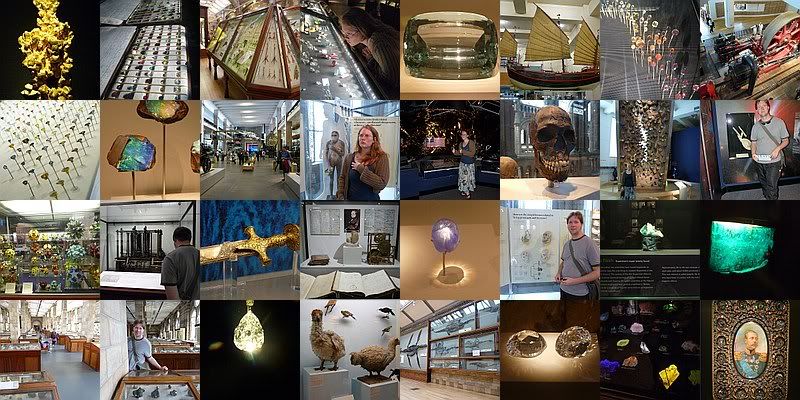 The morning of the 23rd the family we're staying with was up and out the door for their 10 day vacation by 5:00 AM. So we got to wake up to an empty house for the first time, which was nice. Not that we don't like the people we're staying with, just it's fun to pretend we actually live here in London on our own. We drank loads of tea (we've been drinking an obnoxious amount of tea - maybe 6 cups a day! I hope we don't get some sort of liver disease or something...) and had our cereal, then decided to go to Borough Market.
Borough Market is a big and crowded outdoor market filled with fruits, vegetables, cheese, bread, chocolate, turkish delight (yum!), olives, olive oil, wines, juices, cakes and pastries, a few meat and fish stands, and a bunch of different places to get already prepared food. One stand had a huge pot of fish stew cooking away and it smelled sooooo delicious! The line for that one was probably about 100 people long. Walking around the market was crazy! It was so crowded that in many places you were squished tight against everyone else, pushing your way through, trying to find a stream of people headed in the same direction as you. It was nuts!
I went to the market with the intent to get shrimp to put in a shrimp pasta for dinner. There were only two fish stalls and the price of shrimp was a bit ridiculous. One of the meat stalls however had wild rabbit for 5.00 GBP a piece. I've never had rabbit so thought this would be the perfect time to try! We got some snap peas, onions, and mushrooms from the market as well.
After the market we walked along the river down the the Globe Theatre. We just had a look inside the place and got a picture to say we'd been there. On the walk back to the tube station we passed an ice cream man in a cardboard ice cream van. He must have a bicycle or something hidden inside, or maybe he just walks it around! An interesting sight.
After we got back to the house I looked up a recipe using rabbit. I found a rabbit pasta that looked good so we set out to get the remaining ingredients and I started in. I had to cut up the rabbit and I managed to get the legs off but was lost after that. I was supposed to... cut the belly meat or something and wrap it around... I dunno! So I ended up just throwing all the rabbit bits in a pot of water and boiling it all the same. Worked out well enough. And the final product when the pasta was thrown together was amazing! That recipe is a definite keeper. It was one of the best pastas I've ever had. I was afraid of trying the rabbit at first, but it was really tasty. The best description I could give is that it's a mix of pork and turkey I guess. It was good! So now i can add rabbit to the list of meats I've tried. And for anyone interested, here's the recipe by Gordon Ramsay:
Rabbit fricassée and tagliatelle
.