We spent three nights in
Belfast
at a hostel. The hostel had a lively feel - a bit too lively actually. All I can say is thank god we brought earplugs because I don't think people actually went to sleep at this place. And our bed was pretty much a wooden platform with a comforter thrown on top. But we're troopers! We survived. And on April 23 we took a tour to the
Giant's Causeway
!
As opposed to our last daytrip in Dublin, this was a big bus and there were about 25 other people with us. But it was still a good tour. We stopped at a few places for only 10 minutes just to take pictures. One was
Carrickfergus Castle
, which looked like a typical castle. Another quick stop was in a coastal town called Carnlough. It was just a lovely, rustic photo opportunity. And my favorite quick-stop was at
Dunluce Castle
because it was an influential in C.S. Lewis' Narnia series. It's apparently his inspiration for
Cair Paravel
! I thought that was very cool.
We stopped at the
Carrick-a-rede
Rope Bridge for a longer length of time. This is not only another beautiful place along the coast, but is home to a sturdy rope bridge that hangs 90 feet above the churning water. Despite the extra cost to cross the bridge, Chuck convinced me it would be worth it. As you walk across the bridge is sort of bounces like a trampoline which is exciting! It really feels very sturdy though, so it's not scary at all (unless you have some fear of heights maybe). So in the end I'm glad we crossed the bridge.
The Giant's Causeway itself was awesome (as in it inspired awe). The landscape is just huge, making you feel so small. When you look across the way at the hexagonal rock formations, sure they look big. But then you realize that those small specks at the bottom are people and that it's not just big, it's absolutely enormous. And it's strange how regular the rock formations are - all lined up like steps, all about the same size, all about the same shape. It's really very cool. And a nice long walk to see the main highlights of the Causeway, so we got some exercise.
Oh, almost forgot to mention that we stopped quickly at
Bushmill's Distillery
for a drop of whiskey. It had a nice, rich, hoppy smell that I liked. Chuck had a dram of whiskey that was just okay in our opinion.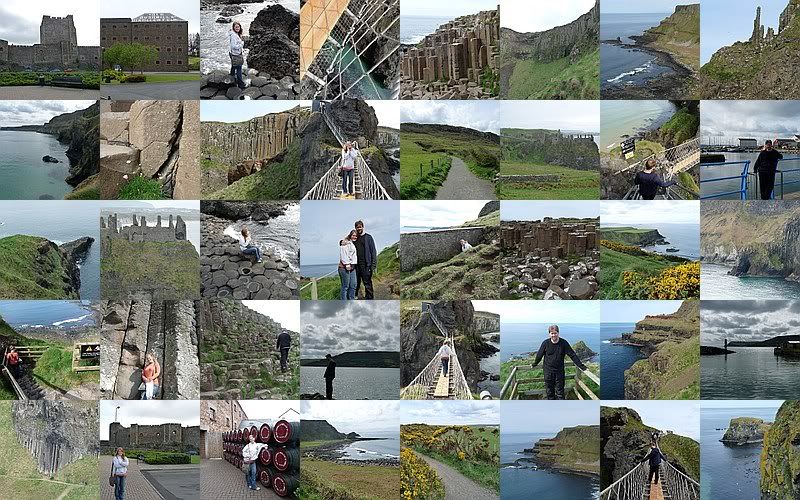 The 24th was much more relaxed as we just stayed in Belfast. It was a deeply overcast day and I just felt like the apocalypse was creeping up on us. But luckily it didn't actually rain outright because we walked around a fair bit. First stop was
St. George's Market
which is a market (duh) that is open only on Fridays and Saturdays. It was lively! People all over trying to buy incredibly fresh fish of all kinds, various meats, baked goods, olives, clothes, "American Cookies," etc. We managed to get some pepper-marinated steaks and soda bread for dinner that night. One nice thing about the hostel is that you can cook there, so we had a very good meal.
The other main stop was at Belfast's
Botanic Gardens
(poor Chuck, he's been flowered out for a while now). It wasn't as nice as Dublin's gardens, but it wasn't bad or anything. The only reason I dragged Chuck all the way down there was for the water lilies in there, but they weren't in bloom! So I was disappointed about that... But they did have a nice tropical plants house with green bananas hanging off the the banana tree. That was pretty much it for Belfast! Not a bad place.