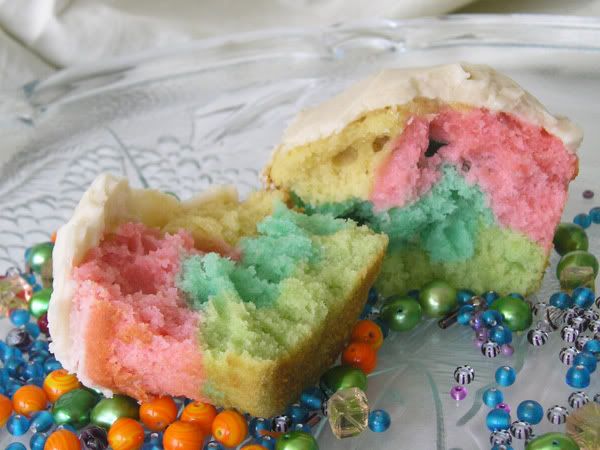 Oh my, it has been a little while since my last post! I've been too busy being lazy, and right now I find myself watching my very own copy of
The Chronicles of Narnia: The Lion, the Witch and the Wardrobe
(I love that movie). And
Prince Caspian
was really good as well! I can't wait for the rest of the movies to come out! But enough about the movies, let's move on to the subject of this post.
Rainbow cupcakes! These aren't a recent creation though - I made them a few months ago. I got the idea from the
Craftster Dessert Forum
(Craftster is an awesome site by the way). People were posting all sorts of delicious looking rainbow desserts: cheesecake, cake, cupcakes, sweet popcorn, etc. So I decided to have a go at it myself and I must say, I think they turned out pretty cool. They also tasted good which was an added bonus.
If you're thinking that making rainbow cupcakes sounds difficult have no fear. It's as simple as...cupcakes really. All you need is food coloring and a few extra bowls. I used a fairly thick-battered recipe which I think helped keep the colors separated, but I'm sure any light colored batter would work. Once you have your batter all made up, split it evenly between a few bowls (one bowl for each color) and add food coloring to each.
For my cupcakes I dolloped a tablespoon of each color (I had four colors total) into each cupcake liner and baked them up. I have seen layered cakes (layers of color instead of blobs) as well - I assume their batter was thinner than mine. I just frosted mine with a basic vanilla buttercream frosting and called them done. They were delicious! I'll put down the recipe I used, but as I mentioned any light cake batter should work.
Notes
It's pretty straight forward, no tricks.
The Verdict
Very delicious, especially when freshly frosted. After a few days of sitting around they get tough though.
I found the recipe at the wonderful
Coconut & Lime
blog (the recipe makes enough batter for an entire cake, so you may want to halve it if you only want a few cupcakes):
Ingredients
3 1/3 cup flour

1 1/3 cup milk

1 1/4 cup sugar

1 cup butter

1/4 cup light brown sugar

1 1/2 Tbsp baking powder

3 Tbsp vanilla paste (I used 1 1/2 Tbsp vanilla extract)

1/2 tsp salt

3 eggs

2 egg yolks
Makes an entire cake.
Directions
Preheat oven to 350. Grease and flour or spray with baking spray two 8 inch round pans.


In a large bowl, beat together butter and sugars until fluffy. Add eggs and egg yolks, mix until well combined. In a medium bowl, whisk together flour, salt and baking powder. Add the vanilla paste to the milk. Mixing continuously, add the flour and milk alternately, beginning and ending with flour.


Divide evenly into the prepared pans and bake about 40 minutes or until the top is golden and a toothpick inserted in the center comes out mostly clean. Cool on wire rack, removing from the pans after about 5 minutes. Cool completely then ice.
And my icing recipe came from
Cupcake Project
(once again, I substituted the vanilla paste with half the amount of vanilla extract). Yum!