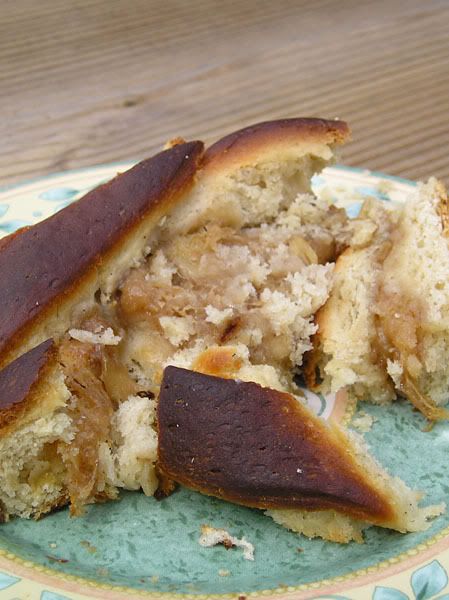 I'm back already! Thought I'd treat everyone to
two
posts today in an attempt to make up for my negligence. But first I need to turn down the A/C... ... ...There, much better! Ok!
Now this creation was completed a while ago as well - remember how in my earlier post I said I've been lazy? That includes cooking laziness too. But when it was made it was a large thing - almost 1 1/2 feet long! I couldn't (or perhaps I should say "shouldn't") eat that whole thing by myself, so I brought it over to my Mom's house to share with the family.
Although the original recipe I used called for an apple filling I decided to wander off the beaten path and try a white peach filling. So I bought my peaches and coldly told Mr. C with a wag of my finger "Now don't go eating none of those peaches, hear??" until I was ready to get down to business. I was very happy with my dough consistency - it was very delicate and dainty (yes, I do realize that's an odd way to describe dough). And although I think I over-cooked the peach filling it still came out tasting delicious. It wasn't until afterwards that I thought perhaps peaches didn't need as much softening up as apples.
And last of all, I was sad that it came out looking burnt. But I was happy that it didn't taste burnt. I guess you can't win every time, huh? It was also a kind of difficult dish for me to photograph. It might have been prettier if I'd had some ice cream or fruit slices or the glaze that was supposed to go on top but I didn't make. Oh well, good enough!
Notes
I decided to use peaches instead of apples. I didn't change anything except the apples - everything else stayed the same. The only thing I might do different if I made this again would be to not cook the peaches so long. The only problem there is that it took a long time for the sauce to get thick enough to make a nice filling. I have a feeling I might have had very juicy peaches though.

My dough was fairly sticky. I didn't want to add too much extra flour because I wanted a nice tender dough, so when I did the kneeding I used the rubber spatula in one hand to help lift the dough and used the other hand to quickly push the dough into itself. Still kinda messy, but better than it would have been had I stuck both hands in there.
The Verdict
I thought it came out really good! And my Mom, sister, and friend all said they liked it. I do think it could have used more filling. I would make this again though - would love to try other fillings too.
Here is the recipe from
Technicolor Kitchen
: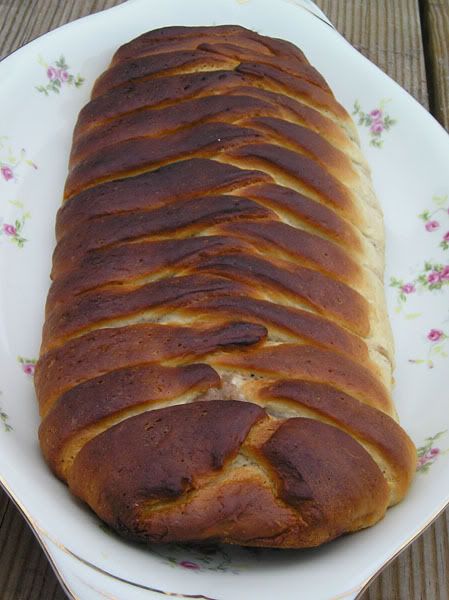 Ingredients
Dough:
2 Tbsp warm water (105ºF to 115ºF)

1 package (2 1/4 teaspoons) active dry yeast


1/2 cup whole milk

6 Tbsp sugar

5 Tbsp unsalted butter, diced, room temperature

1 tsp salt

2 large egg yolks

1 tsp finely grated orange zest

1/2 tsp ground cardamom

1/4 tsp ground nutmeg

2 to 2 1/4 cups all purpose flour
Filling:
2 Tbsp unsalted butter

6 Tbsp (packed) golden brown sugar

1 1/4 pounds Golden Delicious apples (about 3 medium), peeled, cored, quartered, cut crosswise into 1/4 inch slices (I used white peaches instead)

1 tsp finely grated orange zest

1 tsp finely grated lemon zest

1/2 tsp ground cinnamon

1/8 tsp ground cardamom

1/8 tsp ground nutmeg


Nonstick vegetable oil spray or vegetable oil

1/3 cup vanilla wafers
Glaze: (I didn't make this or any glaze)
1 1/2 cups powdered sugar

2 Tbsp (or more) orange juice
Makes 8-10 servings.
Directions
Dough: Place 2 tablespoons warm water in small cup. Mix in yeast. Let stand until yeast dissolves, about 6 minutes.


Stir milk, sugar, butter, and salt in medium saucepan over medium-low heat just until sugar dissolves and butter melts (mixture should be just warm). Scrape milk mixture into large bowl; cool to lukewarm if necessary. Whisk in yeast mixture, egg yolks, orange peel, and spices. Add 2 cups flour; mix with rubber spatula until dough comes together. Turn dough out onto floured work surface. Knead until smooth and silky, sprinkling with more flour by tablespoonfuls as needed, about 6 minutes – it's a very tender dough, delicious to work with. Place in clean large bowl. Cover with plastic wrap and kitchen towel. Place in warm draft-free area (I use my microwave oven); let rise until light and almost doubled in volume, about 2 1/2 hours.


Filling: Melt butter in heavy medium skillet over medium-high heat. Add brown sugar. Cook until thick grainy sauce forms, about 1 minute. Mix in apples (or peaches). Cook until apples are tender and sauce is reduced to glaze, tossing often, about 7 minutes. Mix in all grated peels and spices. Cool filling at least 30 minutes and up to 3 hours.


Place large sheet of foil on work surface; spray with nonstick spray. Turn dough out onto foil. Roll out to 14x12-inch (35x30cm) rectangle. Sprinkle cookie crumbs in 4-inch-wide (10cm) strip down center, leaving a 1/2-inch border at top and bottom. Arrange apples with any juices atop crumbs. Starting 1/2 inch from each long side of apples, cut straight to edge of dough at 1-inch intervals, making about 13 strips on each side. Fold dough strips alternately and on slight angle over filling, forming lattice. Seal open ends of dough.


Slide foil with dough onto large rimmed baking sheet; trim foil overhang. Cover cake loosely with plastic and towel. Place cake in warm draft-free area; let dough rise until light and puffy, about 1 3/4 hours.


Preheat oven to 375ºF. Bake cake uncovered until golden brown, 30 to 35 minutes. Cool 30 minutes.


Glaze: Mix powdered sugar and 2 tablespoons orange juice in small bowl to blend, adding more juice by 1/2 teaspoonful if too thick. Drizzle glaze over cake. Gently run spatula under cake to loosen from foil. Cut crosswise into slices. Serve slightly warm or at room temperature.