I've been slacking on my blogging for the past few days. In fact, I've been slacking on my journaling and price-recording and everything! I'm sort of liking the idea of curling up inside with a bunch of snacks and a good book for a few days. And I miss having a stove. But let me fill you in on a few days I've missed.
We left Glasgow on May 3, but before we did we got a few more pictures. We walked down to a big park called Glasgow Green. It's nice enough as far as parks go. The park is home to a large arch, a tall obelisk, and the People's Palace Museum (which we didn't go into for whatever reason). In front of the museum was a large terra cotta fountain that was really cool. It is "crowded with figurative groups representing Australia, Canada, India and South Africa" (from
Living In Glasgow
). Lovely fountain.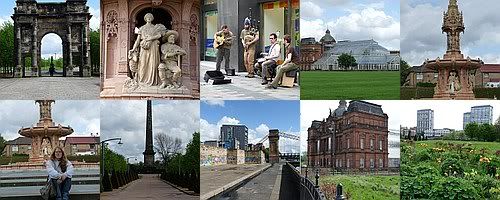 We also went and saw Wolverine at the gigantic Cineworld before we left Glasgow. It was about 10 stories high with a wide range of candy and snacks on each level. It was an experience! But after that we headed to Edinburgh via train. After leading us the wrong direction for about 10 minutes we found our place. It was a self-catering apartment, which I was very excited about because I would get to use a stove! Yay! But the drawback ended up being the incessant, never ending whistling of the wind through the windows in every room of the place... Gah!!
First day we went out to Edinburgh Castle which was interesting, but also crowded, cold and crazy windy. We got to see the crown jewels of Scotland, which were, of course, lovely. They had a really nice display leading up the room where the crown, sword, and scepter that make up the crown jewels were held. And they also had a great display through the prison area of the castle. And there were a few museums dedicated to the military and various wars that Scotland has been involved with. So great castle if you can ignore the wind and cold! I had a hard time ignoring it. We also saw Holyrood Palace where the queen stays when she's in town. We didn't go in though - we'd just spent 25.00 GBP on the castle, sooo... We also stopped into St. Giles Cathedral which was yet another nice cathedral. We've seen a few at this point - they're starting to blend!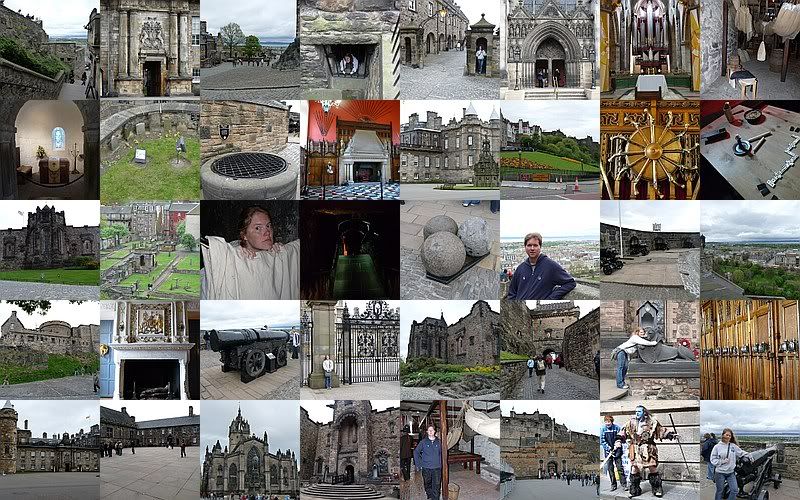 Next day we stayed inside ALL DAY. Never set foot out of the apartment once. It was so nice!!! We read and watched TV shows online, only getting up off the couch to eat and pee. Was so nice to have a break. But the next day (May 6) we went out to Calton Park. There are a few monuments up there, but the best part is the view. It's basically a big hill in the middle of the city so the views from here are amazing. I insisted we wander around an old looking cemetery, too. Earliest death I remember seeing was 1792 I think.