We arrived in Rome's incredibly busy main station in the afternoon on the 8th. It was a mad house with people squeezing in on you from every side and others coming at you from the opposite direction you're trying to go. It was as though I was clinging desperately to a barnacled edge of reef during a raging storm, just to keep from getting swept away by the tide of writhing, luggage-wielding bodies. Okay, so I'm exaggerating quite a bit, but it
was
a really crowded station. We were happy to easily find our bus in the bus terminal, as though he was waiting just for us. We passed by a number of cool looking sights on the way to the hotel. The ride took about 40 minutes, and once we got there Robyn had to use her iPhone to get the last bit of the directions to the hotel. The hotel itself (Il Casteletto) was pretty decent. The air-conditioner worked once we figured out what setting to use, and the internet, once we figured out the settings for that as well. We walked to the grocery store which turned out to be like... the Dollar store of grocery stores. It wasn't that everything was a dollar, but that everything was of a fairly bad quality. We weren't gonna find no Bugles there (and I've been craving them for a while now - no Bugles anywhere! Makes me so sad). But we got enough for a somewhat satisfying dinner and just staying in for the rest of the night.
Being the superbly responsible person that I am, I set the alarm for somewhere around 8:00 AM. It went off quite a few times with no effect until I decided that I should go ahead and get up for breakfast. I was apparently the only one who cared to do so because Robyn and Chuck continued snoring away while I ate a dry croissant and some stale cereal with warm milk. Boy, did they miss out or what. I have to admit being a little peeved at the fact that we didn't end up leaving the hotel until close to noon, but it ended up being a full and successful day despite that. So we took the bus back into town, keeping on the lookout for a nice central stop. The bus was pretty packed when we found a stop that was right by the Roman Forums, so although Chuck made it off, the door shut in me and Robyn's face before we could make it through the crowd. We watched in horror as the bus drove off with us to god knows where. Okay, so there was no horror and the bus drove off with us to just the next bus stop, but I did feel a faint bit of subdued panic at the thought that we could be separated in the big city of Rome. Of course, if worse came to worse we would all end up back at the hotel with nothing lost but a day of sight-seeing, but still! Robyn and I walked back to the stop that Chuck had gotten off at, hoping he had decided to stay put. But he wasn't there. After hanging around for about five minutes I decided to take the bus to the next stop again and walk back one more time, all the while keeping my eyes peeled for him. No luck. I got back to Robyn with still no Chuck in sight. So we waited some more. I was starting to get a little worried now - mainly I though he might have just decided to go back to the hotel immediately and that we would have wasted one of our days in Rome. After maybe 10 minutes or so I was greatly relieved to see him crossing the street towards us with a smile on his face! It was all good - we were back on track. First things first: we deserved gelato after that ordeal. You look for any excuse for gelato when in Italy... So first thing we took pictures of was the Monumento a Vittorio Emanuele II, then moved on to see some nearby ruins. When we realized they weren't the Roman Forum ruins we made our way across the street to where they
were
located. We paid our admission and Robyn whipped her heavy, yet useful European guide book to guide us through the ruins. Most of the buildings had completely fallen down and only a couple pieces of columns were left lying in the dirt, but some temples still had quite a bit of floor intact with the stumps of columns planted throughout. There was a memorial to Julius Caesar where he was cremated. There were a couple of huge, Arc-du-Triomph-like arches at the edges of the complex. The highlight of the whole complex is the Palatino. You have to climb a few flights of stairs past pretty fountains built into the walls, but once on top there's a pretty good view of the city. It definitely has an old Roman feel to it. You can then wander toward the Colosseum through the ruins of the old palace area. You really have to use your imagination to be able to grasp how it all might have looked and felt - otherwise you can just be impressed with the idea that you're walking the footsteps of people who are many hundreds of years dead and gone. Walking the footsteps perhaps, of people who have shaped the world. You have to think to appreciate it all. Oh, and I thought it was really cool to see that they had areas blocked off where people were still excavating the ruins and sifting through the dirt, looking for undiscovered treasures. I kept pointing and exclaiming "Look! Archaeologists!" whenever we came upon a site. There's still secrets to be found in the middle of Rome! Next was the Colosseum. It's a pretty cool building with a cool, grisly, dark history. People stood in there cheering on the deaths of other human beings! Craziness! And there we stood, taking pictures, trying to imagine the past. The original floor of the arena is long gone, so you can see into the labyrinthine bowels of the stadium where the gladiators, prisoners, and wild animals would have awaited their fate. Apparently they could actually flood the stage and recreate naval battles! Real blood and all, I'm sure. We headed on to San Giovanni Laterano next, stopping for a kebab on the way. San Giovanni Laterano is a huge church and is filled with absolutely stunning decoration. I can't even describe it. The pictures I took do it so little justice. It was really incredible though. Our last stop was incredible too, but in a different way. It was the Scala Sancta, or Holy Stairs. It is a long set of marble stairs that have been overlaid with wooden stairs for protection. The story is that they are the very stairs that Jesus walked up to face Pontius Pilates during the trail that led to his crucifixion. The stairs were apparently moved from their original location and basically enshrined there in Rome. The coolest thing is that you can climb the stairs on your knees to praise God! In fact, you can
only
climb the stairs on your knees - no feet allowed. I don't consider myself religious, so I felt a little blasphemous as I made my way up the stairs on my aching knees. But I did think about Jesus and all the good that the man himself stands for in an attempt to make up for that. It was interesting to watch the others on the stairs - some were obviously adamantly devoted to whichever form of faith they had chosen. One guy who had a bit of a surfer look spent about 3 minutes on his knees at the top of the stairs, hands fervently clasped in front of him when he wasn't bowed low enough that his forehead almost touched the floor. I was glad I went through the pain of getting to the top (which I suppose is the purpose). So I may have gone up the very stairs that Jesus himself walked up! If he did go up some stairs and if they actually survived that is... After that we went back to the hotel, got some groceries, and relaxed for the rest of the night.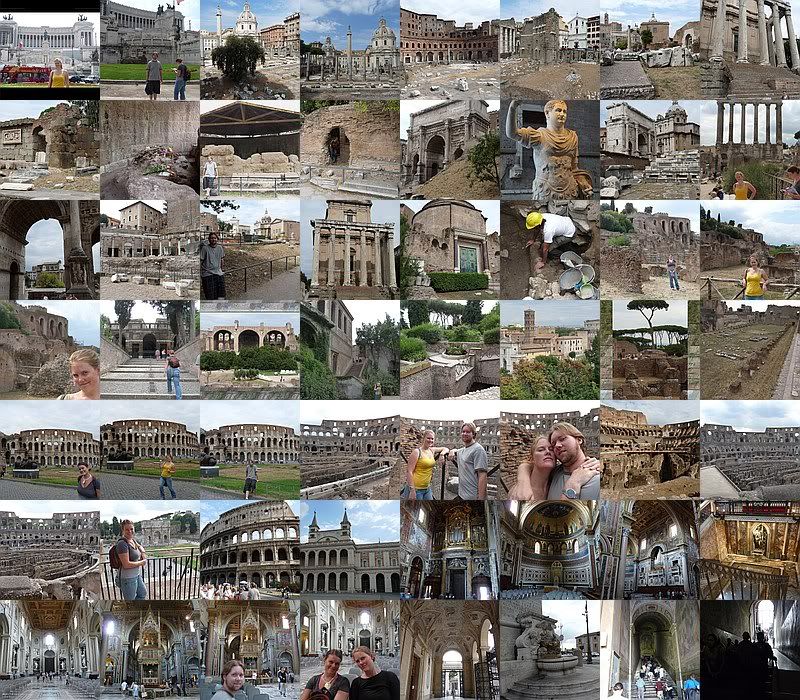 We managed to get into the city at a decent time on the 10th. First stop: the Vatican. We waited in a long, but quickly moving line to get into St. Peter's Basilica. It was a beautiful church, as one would expect from the Vatican. It was huge too, yet so packed with people you had to fight your way through the crowd in some places. The architecture was ornate and the statues incredibly life-like. Everything seemed to be made of either marble or gold. There was a famous statue sculpted by Michelangelo on display just inside, protected by a glass wall. There was a long line to see the glass casket of Pope John XXIII. We didn't wait in line to see him, but through the gaps in the crowd it looked like it was indeed his actual remains. After fighting our way out of the church we headed over to the Sistine Chapel and Vatican Museum. We had bought tickets online, which turned out to be useless because there was no line to buy tickets in person. So we wasted €12 in online fees to make sure we were guaranteed admission into a rather empty museum. Grrr. The main attraction is, of course, Michelangelo's Sistine Chapel paintings. To get there you are tunneled through the rest of the museum first. We just ran by everything at first, but then I realized that we weren't going to be coming back to see it all so I'd better pay attention. Most of it wasn't really all that interesting in my un-educated opinion. When we
finally
made it to the chapel I was underwhelmed. I'm not sure what I was imagining it would be like, but it wasn't as impressive as it had been in my head. It sort of reminded me of a kid who had painted their room with a bunch of different scenes of various stories. I mean, it was very good and skilled painting, but the way it was all laid out across the ceiling and walls was a bit... I'm not sure how to describe it. But it was still cool to see the famous chapel. The rule was "no photography" but being the rebels we are I whipped out my camera with well-concealed trepidation and nonchalantly snapped a quick picture. There were so many people in there that I could probably have stood taking pictures for a good minute before anyone said anything to me. I saw other people breaking the rule too. I'm not sure why they say "no photos" anyways though - I think probably just to be the only ones with pictures of the chapel so that visitors have to buy a postcard or something to have a visual reminder of their visit. It can't be because it's too sacred because we could take pictures inside their big sacred church, and it can't be because it's copyrighted art, because he's long dead with no existing manager. So we went ahead and stuck it to the man (although in this case "the man" would be the Pope perhaps). After he museum we left the Vatican area and looked for food on the way to the metro to go to see Trevi Fountain. Right outside the metro station we found a cafeteria-style joint where, after much confusion and frustration, we got some food. Trevi Fountain was completely packed once we arrived. Lots of people were throwing pennies over their shoulders into the fountain, as is the tradition. It's said that if you throw a penny over your shoulder into the fountain it guarantees that you'll come back to Rome one day. We all threw our pennies in for fun too, then hoofed it out of there. We passed by the eight columns of Tempio Adriano (not very exciting) on or way to the Pantheon. It's pretty big and looks very old from the outside. Inside it looks newer and has been converted into a sort of open church. Once again, lots of people here. We went south to Campo de Fiori - an open air market - but being so late in the day, most of the stalls had packed up and left. We refilled our water bottles (I should say Robyn's water bottle, since she's the only one dedicated enough to actually bring one along everyday) and popped into a bakery. They had a giant bologna sausage on display out front - about 1 foot in diameter and 3-4 feet long. Huge sucker! So thanks to their crazy bologna they managed to sell me a sugary meringue and Robyn bought a canolli. We walked through Piazza Navona which had a nice big fountain in the middle and lots of people. We went into St. Ignazio di Loyola, another beautiful church. Lastly, we headed to Chiesa del Gesu which is yet
another
church and unfortunately closed. After that we headed back to the hotel for the rest of the night. It had been another long day!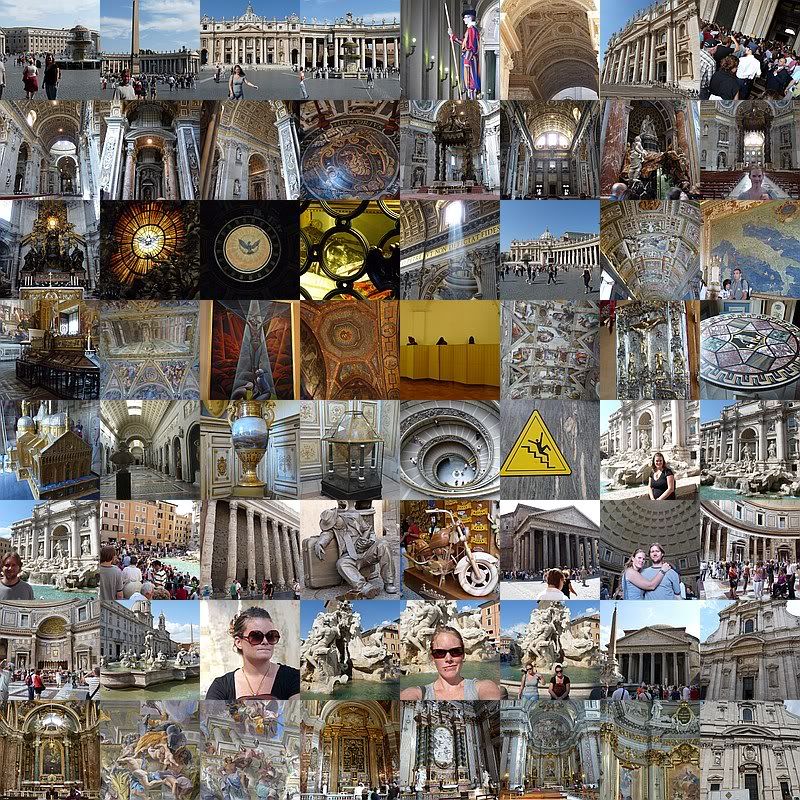 We slept in on the 11th, making it out the door at about 1:00 or so. Robyn and Chuck found a hookah place, or shisha as it's called in Italy. It was literally called Shisha & Kebab and they served both food and hookah. It was a pretty cool place. We sat in the basement area which had no tables and only a bunch of cushions lining the walls. There were paintings of the walls, mainly of men on horses wielding scimitars in a desert. It was only lit by two or three small lights, giving it a nice relaxing aura. We ended up sitting down there for almost three hours eating our kebabs and a dessert of baklava while smoking our hookah. The lady who ran the place was very nice and had a casual personality. She had us test the hookah to make sure it was working okay instead of her doing it because she was fasting. I assume she was fasting for Ramadan and that smoking hookah was one of the things that they fasted from. Kinda cool. After lunch we walked to Paola Fountain, which is not nearly as grand as Trevi Fountain but still pretty. For the next hour or so we just walked around the Trastevere area checking things out. Before heading back to the hotel we grabbed a pizza to go. I felt bad about possibly making everyone on the bus hungry because the whole bus stank of pizza when we got off. Oh well! It was another relaxing night.
We checked out on the 12th. At the train station we found a grocery store where Chuck got what we've taken to calling a pearple. It was the shape and texture of an apple, bu had the color and flavor of a pear. They do some weird stuff with genetics these days... We hopped on the train and zipped off to Montecatini Terme!