Our late-night train ride to Paris was just fine. We were told that when going to Paris by train the passport control suddenly pops up out of nowhere as soon as you cross the border. Lo and behold, that's just what happened. Suddenly there are these spiffy, super-security guard looking men going through the train asking for passports with a very French accent. They're serious about their border control! We, of course, had no problems with that though. Thank goodness... We were pretty darn tired by the time we go there, but nothing we couldn't suffer through. We hung around the train station for a while where we saw numerous men dressed in full camoflauge gear, a giant beret, and a large machine gun or rifle or whatever it was. That was a bit disturbing... I assume they're afraid of attacks on the stations and these GI Joes are going to save the day. I honestly just felt like I might get shot for some unknown infarction! Kinda scary and disconcerting. After arriving at the hotel a few hours later we took a good six hour nap, found a grocery store, made a pasta, and went back to bed again. We needed the rest!
The next morning we got out the door by 10:45 AM or so. First stop: Eiffel Tower. It was a bit exciting to walk down the road towards the park and see the top of the tower peeking over buildings or down allys, and finally popping out for all to see when we reached the edge of the green. We got a lot of pictures of it from various spots and angles, so I don't think I'll look back in years to come and say "Gosh, I should have taken a few more photos!" Thanks to our friend Erin we decided to do a wine-and-cheese picnic in the park. I took my time picking out a spot that I deemed worthy and we took a seat and unloaded our little bag of lunch. We took about an hour eating, talking, and people-watching right next to the Eiffel Tower. It was very nice actually! The tower was just as big and just as impressive as I expected so there were no disapointments from me. I think Chuck was expecting a bit more, but I wouldn't call him disapointed. There were long lines of people waiting to go up the tower at each ticket station. You could see them, like little ants, marching up the bowels of the tower. It looks like a hard climb. We opted out of the climb and instead headed out past the Palais de Chaillot and down to the Arc de Triomphe. The Arc de Trimphe
was
bigger than I expected. It had all sorts of memorials and plaques all over it, written in French so I couldn't really understand most of them. And the surrounding round-about is pretty big and without any lines markign the lanes. How do they drive without hitting each ther?? Mayhem! Nah, traffic seemed to flow just fine despite not having lane lines. We walked down Champs Elysees Avenue to see the Grand Palais and Petit Palais - I thought the Petit Palais was much prettier than the Grand Palais. After that was Concorde Square which is home to a small obelisk (small in terms of obelisks that is - most obelisks are rather huge in height). Next stop, just down the road was la Madeleine, which is another large, impressive building. And
next
we made our way to the gorgeous opera house: Palais Garnier. They have busts of various compsers displayed in alcoves around the outside of the building, much like that room inside the opera house in Vienna. I snapped some pictures as we passed by on our way to Sacre Coeur. Oh, and on the way to Sacre Coeur we passed by the Moulin Rouge! Very not-impressive, but I guess it's the name that's important. I don't think I've yet mentioned how exhausted I was by this point. I felt like a zombie, just marching along after Chuck, too weak to even complain. We were both dead tired. The neighborhood we were walking through was pretty interesting though. After the Moulin Rouge we were in the sex-district with lots of sex shops and a few theatres. Past that was... Well, I don't know that it had a name (although I'm sure it did because all the different sections of big cities have their own names), but it was a very busy area. There were a number of very cheap clothes shops that basically had cardboard boxes or plastic bins out front filled with a jumble of clothing and a sign saying "€1." There were a few guys with shopping carts containing a mini brick BBQ that was stacked with delicious looking roast corn on the cob. There were a lot of sketchy looking guys inconspicously selling belts, sunglasses, and colognes on the curb as you passed by. Although I noticed quite a bit of African influence all over the city there was a lot more of it in this part of town. Men and women alike were wearing colorfully patterned robe-like dresses and some mothers had their babies slung onto their backs with just a large piece of fabric. And did I mention it was really busy? It was busy over here. After climbing a friggin mountain (technically it was more a hill) to see Sacre Coeur we wearily headed back to the hotel. I was careful to tightly hold onto my bag on the metro because the crowd seemed a great place for pick-pocketers to hang out. Luckily no one tried anything.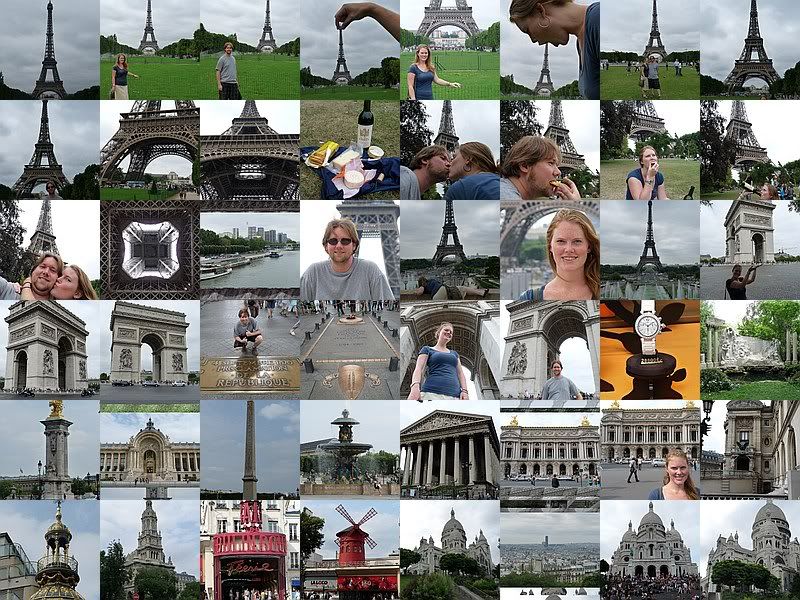 The next morning we set out with sore feet from the day before to see the Louvre Museum. On the walk there we stopped into St. Germain Church which I thought was lovely. Most churches I've seen are either painted in brighter colors - namely whites or creams - or left as natural stone. This church was painted in dark blues and greens and marroons. I felt it was perhaps a more honest representation of the religion... I loved it! We also passed by a busy little pastry shop that had a bunch of different flavors of macarons, but I decided to pass it up for the moment. I didn't realize it as we came upon the Louvre. The building is huge and beautiful, covered (as such buildings seem to be) with sculptures and carvings. We looked up how big it was later and it's something like 650,000 square feet. The buildings are built around a square, which is where the famous glass pyramid enterance is located. We paid €9 a person for tickets, but I honestly think it's worth more just for the architecture inside. I was more impressed by all the gold relief and ceiling paintings in each room than the artwork that was hanging on the walls. It's so beautiful!! I believe it used to be home to Napoleon III and one section of the museum is decorated as they might have been while he was living there. Huge chandeliers, long dinner tables, lush couches and chairs, rich carpets and curtains. So amazing. Oh yeah, we saw the Mona Lisa, Venus de Milo, and a few other famous and not-so-famous pieces of art. As expected Ms. Lisa and Ms. Milo were really crowded. I was determined to get close to the Mona Lisa though so I pushed and prodded my way to
almost
the very front where Chuck and I each got a picture with her. She's so small! Well, I mean I was expecting a 3-4 foot painting but it looks like it's barely 2 feet tall. The wall she hangs on is covered by a thick layer of glass for protection. It sounds like she's been through a few ordeals in her time: being stolen for two years, have rocks thrown at her, etc. But she looks pretty secure now. We spent nearly four hours in the museum and perhaps saw maybe 25% of the place. It is "gastronomical" in size as Chuck just stated. There's a pretty church right next to the Louvre that I looked at quickly before we went back to the hotel. Another exhausting day in Paris!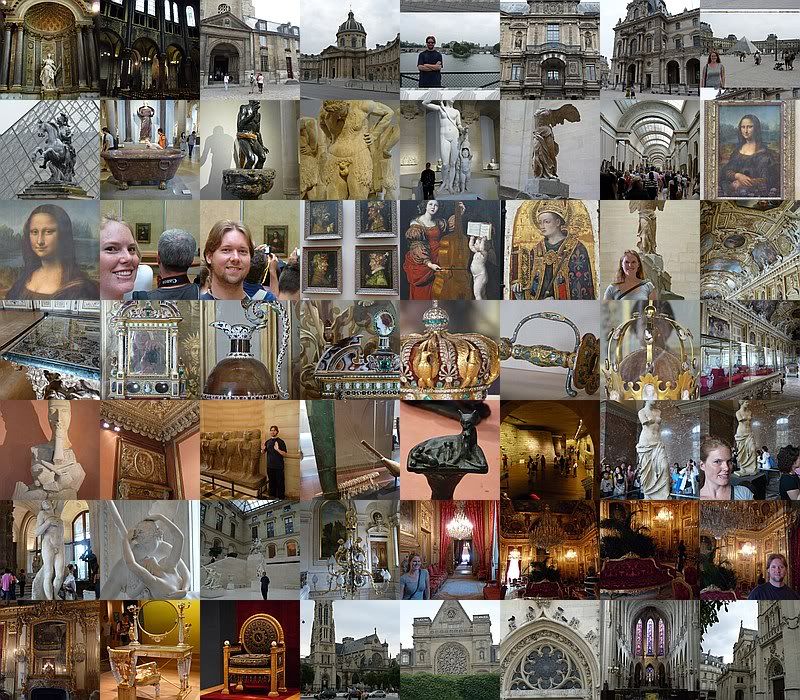 On the 9th we headed out to start our day at the Republique statue. Walking south down Richard Lenoir we eventually came to a big market selling all the things that markets do. We finally got a small can opener for €1! It should come in handy. We also got a crepe filled with dark chocolate. We took our crepe to the edge of the market and sat down on a ledge to eat. Little did we know we'd be getting free entertainment too. We noticed the commotion only as a large woman with a small dog and a shopping cart holding another dog began to yell at a nearby vendor in French. She seemed very angry. After a bit of yelling the vendor stomped over to her and started yelling back. She spat on the ground at his feet, which I imagine would be insulting to ones honor and he made motions like he was telling her to leave. After a few moments he stomped back to his stall and mostly ingored her. She, however, was happy to go on yelling and throwing a fit. She had ice thrown at her a couple of times which was something I'd never seen before. I almost expected tomatoes to fly at some point. The whole time her dogs are barking and barking along with her. We weren't the only ones entranced by what was going on - there were a few onlookers. A stander-by finally managed to talk to her and she slowly simmered down. I really wish I had known what that argument was all about! I was very curious. And it was interesting to see the cultural difference in how to insult someone - spit at their feet or throw ice on them. After the show we headed to the Bastille - yet another statue. I stopped into a pastry shop that I had looked up the night before and finally got my macarons. Those tiny things are pricey! I got four and it cost me €7. But I wasn't going to leave France without trying a French macaron. I have to say that the pistachio was by far my favorite, vanilla came in second, raspberry third and lastly the chocolate. They're so good though - they have great textures. We next walked our way to Notre Dame which really is beautiful. The line for free entry was really long but I insisted we stand there for at least five minutes. Amazingly, it only took us about eight to get inside! The most impressive features inside are the giant, round stained glass windows and the size of it. Otherwise the inside isn't anything much more spectacular than a number of other churches we've been to. But definitely worth the eight minute wait. Next stop was Palais du Luxembourg which is the home of the French Parliament. The gardens there are really beautiful and it seems to be a popular place to hang out on a sunny day. There were kids poking little sailboats with sticks as they floated around the fountain. After that was the Pantheon that we passed by, a crooked church (the altar, ceiling, and front window didn't line up like most churches do), and then we were done finally! But sadly the grocery store was closed by the time we got back. Can anyone guess why? That's right! It was
Sunday
! Grrr. We had to settle for plain old, boring pasta for dinner.
On the 10th we checked out of our hotel and walked down to the train station where I debated for 5 minutes about whether or not we should pay the money to go to Versailles. After a bit of inner turmoil I decided that yes, we should go. Amidst continuing inner turmoil we locked our backpacks in the station lockers and took the ride to Versailles on the outskirts of Paris. It is a large place, especially the gardens. And the palace itself, which is trimmed with massive amounts of gold, is behind a very shiny gold gate so we couldn't get in. I wanted to get tickets to go inside and see its grandeur, like the hall of mirrors for example, but apparently the place is closed on Mondays! I was so sad! Here I had struggled with whether or not to pay to go see the place, spent €20 on train tickets, and find we can't even go in!! I guess we can at least say that we went to Versailles, but it would have been nice if I had had the option of actually gloing inside. I bet it's pretty amazing. As for the gardens - they were pretty, sure, but nothing to write home about. We didn't walk around all of the gardens though, so I might have missed something truely lovely. So we just walked around a bit of the grounds and then headed back to the station. We took a quick detour to see the Statue de la Liberte which was a mini Statue of Liberty. For the next 7 hours we hung out at McDonalds using their internet while we waited. We got some Big Macs and fries because we heard they're the best in France, but I didn't think they were anything special. The fries were actually pretty bland, although the Big Mac was good enough. They have McCafes in France (I think they're popping up in the US too, right?) that sell coffes and pastries and stuff like that. Well, they sell macarons at the French ones! I found that odd. I can't imagine they would be as good as the ones I had bought a few days before so I didn't bother trying any, but I just thought it was kinda cool that they had macarons in a McDonalds establishment. By 11:00 PM we were on our train heading to Madrid, Spain.