The bus ride to Barcelona wasn't quite as bad as I had expected, but it was still pretty bad. The seats are tiny which makes sleeping hard and the air-conditioner was making the bus smell like cat poo for a while. The people sitting in front of us were playing music on their phone out loud, with no headphones for the first 15 minutes of the trip and the man to our left was playing Indian music so loud on his headphones that you could plainly hear the singers' warbling wails. But despite that, we made it to Barcelona without going insane. The city was ridiculously hot! We wandered around trying to find the nearby metro when a man wearing serial-killer glasses stopped and asked us if we needed help. Don't ask me what serial-killer glasses look like because I'm not sure – you'd know them if you saw them. He actually turned out to be really nice though. Well, nice to us. Maybe he has some poor soul locked in his basement as I type this. One never does know! But he showed us where the Metro was, which was awesome because I think we might have been wandering around sweating our sanity out for at least an hour. By the time we got to the hotel we were completely drenched in sweat anyways. The back of my shirt was disgusting, and our hotel room was just as hot inside as it was outside! God help us. It was very small with no air-conditioning and just an all around miserable place to be. I don't know how people can survive there in the summer without an AC. We barely survived three days! Chuck and I headed out for a few groceries and not too long after Robyn showed up and joined us. The night was pretty boring, although we did meet some Austrian girls who were also staying there. Turned out one was from Graz, which is where Robyn had just been studying in the music program she was in! Small world. We also got in trouble for using the stove to cook our ramen. So sad to have a stove so close, yet so far. It was tough to fall asleep because the window was open in an attempt to get some cool air in the room. I don't think there is any cool air in Barcelona anywhere. We were all wearing as little clothes as was decently possible (although it was rather indecent none-the-less) and we still sweated our...well, you know what I'm saying.
We tried to explore some of the city on the 20th. First we went to an area called Gracia. There were economical decorations strung up in the square and a lot of kids running around have a grand time. When I say economical, I mean that they used colored plastic cups and different colored individual-sized coffee creamers to decorate. It was actually a really creative set-up! The event was Fiesta Mayor de Gracia which, as far as I can tell is an old celebration that entails decorating all the neighborhood streets in a big competition, having parades, and putting on performances. It was very cool, with children running around playing in a hose and adults standing around chatting and looking very jovial. Continuing on, we saw a little market and a few other squares with statues in them. We reached our goal when we finally came upon the Sagrada Familia. It's a big church designed by the local celebrity architect: Gaudi. It was a strange creation, looking like something of a cross between Disney World and a gothic cathedral. Robyn read up on it and found that construction began in 1882 and is still going on to this day. The place is not yet complete! It's strange building and I'm not sure that I really like it to be honest. But certainly an interesting sight. La Rambla was our next stop. It's basically the main tourist street in Barcelona. Not only is it packed with shoppers and sight-seers, it was also lined with quite a few impressive street performers. There were two people dressed in incredible gargoyle costumes, a Count Dracula looking lady, a Roman general, two lovely fairies, a completely gold woman, and more. They're some of the best street performers I've seen. And what busy, tourist street would be complete without people trying to sell things as well. The main items for sale were fans (which we actually bought two of) and these really annoying noise-makers. It's a little thing that goes in your mouth and I guess you just blow through it and it makes a high-pitched squeaking noise that is very annoying. It sounds like a dog toy. And the way they advertise them is to stand around looking very nonchalant and squeak loudly at you as you pass by. So everywhere you go there's some schmuck squakking at you. I feel bad for any parent suckered into buying that for their kids. One of the coolest places we found along La Rambla was a huge market. It was so colorful and lively! Packed full of fruits, nuts, candies, candied fruit, fruit drinks, sausages, meat, cheese, bread, fish, and a few other things. It was a great place to wander around and have a fruit lunch on the go, or just to look at it all. So vibrant! Robyn got some tasty coconut while we were there. We wandered away from La Rambla to find lunch. We ended up at a decently priced little cafe/cafeteria that was okay but nothing special. We walked to the beach next. It was packed! There was barely any space to set down a towel. It was like but we managed to squeeze in and take a swim. The water was really nice, I have to admit. And it was a new experience for me to see so many topless women wandering around the beach. That's the European way to enjoy the beach! We didn't join in ourselves though. After a quick swim we made a few more stops and ended up back at the hotel pretty exhausted from our day. It was a
hot
, and sweaty, sunburn-y day. We saw some decent sites, found a good market, but the general atmosphere was a little hellish. However, we somehow still found the energy to go out again after our bread, chorizo, and cheese dinner. One of Barcelona's famous sights is its musical fountain which "dances" to a 10 minute segment of music with lights and spraying water every 30 minutes. It's a pretty good show, although Chuck thinks the Bellagio water show is better. If you stand close enough you can feel little droplets of water now and again when the fountain does a particulary big spray. And there's one section of perfectly useable grass that is left abandoned by the spectators because one of the jets of water sprays completely too far and soaks the area. I liked the musical fountain show. Once again, bedtime was horrible. I think the other people staying at the hotel must have thought us very strange. We resorted to leaving the door to our room open as we lounged around in our underwear, trying to cool down. It was so hot!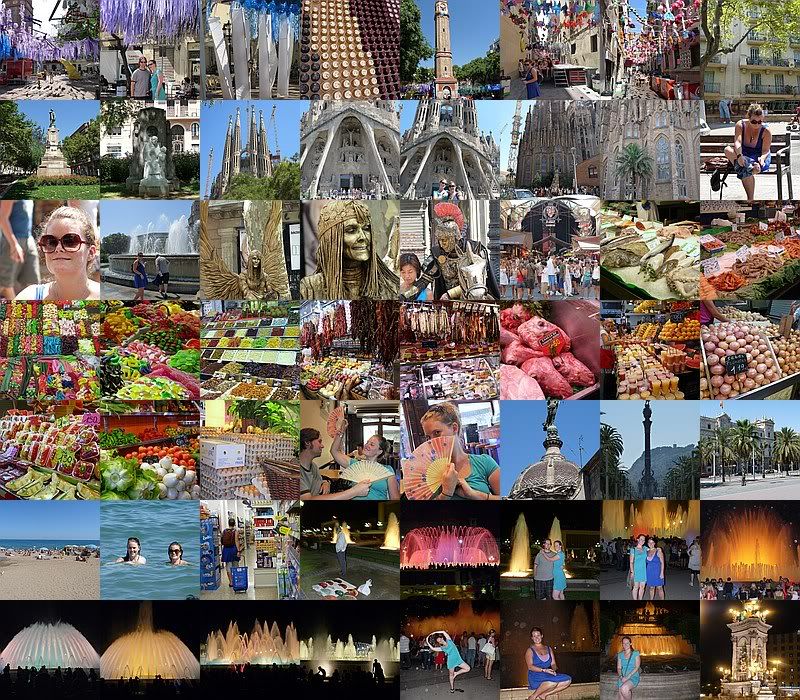 Robyn suggested that the next day we should get out of the city and go to one of the beaches nearby. She found a promising sounding place called Sant Pol de Mar that's about an hour north of Barcelona. But before heading up there we went back to that awesome market on La Rambla for lunch. We got fruit, salami, cheese, and bread for a picnic style lunch. Robyn also got some fried baby octopus on a stick, I got some fritters, and Chuck got an awesome organic burrito. We found a place near the market to spread out the sheet we had ganked from the hotel for the day and set out the food. All was going well until a bird pooed on Chuck's foot. Then I felt some splashes on my own foot and we decided the picnic was over. Stupid birds... The train ride to Sant Pol was pretty as it ran along the Mediterranean coast the whole way. When we got off the train in Sant Pol we were practically standing on the beach. The water was a lovely shade of translucent blue-green with gentle, lapping waves, and the sand was a coarse pebbly consistency. Chuck had read that there is a nude part to the beach and after he found it we all headed over there. I mean, when in Rome right?? Robyn and I chose to just go topless, but Chuck went the whole nine yards! Of course, it's strange at first but you get used to it fairly quickly. And it definitely helped that there were quite a few people around us that were bearing it all as well. The water was great! Just cool enough that it's chilly to get in, but nice once you're in for a few moments. We just sat around on the beach for about three hours enjoying the sunshine and waves. The sun getting lower in the sky, we packed up and headed back to Barcelona. Back at La Rambla again we searched for a piercing parlor Robyn had researched online. It seems getting piercings is the thing to do on vacation because Robyn now wanted to get one. About 10 minutes after walking into the piercing shop we walked back out with Robyn's new piercing: a teardrop surface piercing. It looks really good on her too! Makes me want another one, hehe. We walked around a bit looking for a cheap place to eat, which we did not find. Instead we had just a few tapas - not enough to fill us up all the way, but enough to keep us satisfied. It was good food, I have to admit, and we even got a free order of patas (or steak fries) on accident. The language barrier led our server to believe that we had
not
gotten our fries yet, when in fact we
had
. We tried to tell him but we just couldn't communicate properly, so we ate them!
We left Barcelona on the 22nd and it was a truly frustrating experience. Barcelona has two metro systems run by two separate companies, but they are all listed on Metro maps together, as though they are the same. Our trip to the train station required that we switch trains, and the only option was that we take one company's line, then other. That required that we spend €4.20 a person just getting to the train station. And to top it off, the machine Robyn used to get tickets on the second Metro ate her money and gave no ticket in return. We had to wait while the machine attendant ever so slowly helped another woman get her change from another machine before lazily strolling over to get us back our change. It was so frustrating! The whole experience only re-enforced how glad I was to be leaving Barcelona. On the bright side, the tickets to our next destination were pretty cheap compared to the rest of Europe.