The train to Brno (in the East of the Czech Republic) was a very nice one, so it figured that we had to pay extra for a "reservation" on top of our ticket. So I was bummed about having to fork over more money for that. But it got us to Brno safe, sound, and comfortable. Once we arrived we discovered that they don't seem too keen on using street signs so found it a bit difficult to find our hotel. Somehow we made it without too much trouble and went to check in. After a bit of searching for our reservation we realized we had accidentaly booked the hotel for the two nights prior. I felt silly about that but she was very nice and said she would just switch it to the days we wanted and it was no biggie. In fact - you know when you make a reservation and don't show up they typically charge you for at least one night? Well, they applied that one-night charge to our current stay so that we didn't over pay. It was very nice of them! And the staff was all very nice too. Just to give them a little plug for their generosity: Hotel Europa in Brno, CZ. Nice, modern, clean rooms, with AC, internet, TV (no English channels though), and bathtub. I recommend it if you're ever in Brno! Oh, and good breakfast. So yeah, we checked in, took a brief rest and Chuck was ready to go back out. He charted a little course through the city that took us by notable sights on the way to the supermarket. First stop was St. Thomas' Church, which wasn't really too special, followed by some Czech hot dogs. They're like a corndog without the stick, and instead of cornbread it's made with just an uncut hotdog bun. They have a spike the size of a hotdog that they jam the bread onto so it makes a hotdog-shaped hole down the middle. Then they dip the hotdog in mustard and slide it into the bun. It's a clever way to have a non-messy hotdog! As we ate we wandered by another church - the Red Church. We were even fortunate enough to see some interesting parenting styles. A mother ripped down the pants of her 1 or 2 year old daughter and held her in the air in a sitting position and yelled at her to pee right there on the sidewalk as the girl cried. We just shared a glance and passed on by that situation. We had to haul ourselves up a big hill to see the Spilberk Castle. It's in the middle of a lovely green park at the top of a rather steep hill and has some incredible views of the surrounding city. The castle itself isn't anything ancient - well, it was originally built in the 13th century but was redone in the 18th century. It's pretty though. And after that we saw the New Town Hall, the Old Town Hall, the Vegetable Market, and finally Freedom Square. Brno seems to be a nice city with nice people. It's not very exciting in terms of immpressive things to see, but it makes for a nice little visit.
We didn't do much during the day on the 30th. It was really hot in Brno which meant that doing anything at all made you feel very icky. But we did manage to get out for more of those Czech hotdogs. In the evening we went to a restaurant called Středověká krčma. It had a medieval theme and the staff were all dressed up in themed outfits. The place was in the basement and was made of all brick with a charred ceiling. For the second time ever I got to drink some mead. It was tasty, if not quite sweet. But I like sweet drinks so it was perfect. And Chuck's beer was half mead, half beer which makes for a kind of sweet beer. My onion soup was very good, but rather salty. And Chuck's duck was delicious but a bit dry. We ended up with a ton of food - more than we could eat! Duck, dumplings, saurkraut, red cabbage, apples, oranges. And the waitress - gah, I can't take it! Ok, I'm on the train writing this and there is a couple sitting right across from us that's making me want to vomit! They're sitting across from each other and are scooted to the edges of their seats so their legs are all entwined and he's running his hand all over her legs and they're constantly kissing and making smoochy noises! I mean, at first it's all "Awww," but after 15 minutes it's more like "Oh my God, stop it!" And to top it all off she's wearing this really flimsy, revealing top and keeps very nearly exposing herself. Ok, sorry, just had to rant about that. Where was I? Oh, the waitress. She didn't speak a lick of English, but with a slightly embarrassed smile she tried her best to communicate with us. She just seemed like a really sweet lady to me for some reason. And our bill came to a total of 666 Kč (Czech crowns)! An evil number. But nothing terrible happened to us that night, so no harm. Unless you consider it evil that the bar Chuck wanted to take us to was closed. The restaurant made for a good enough night, though.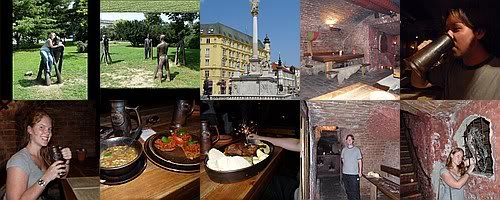 By the way, they're still making out.