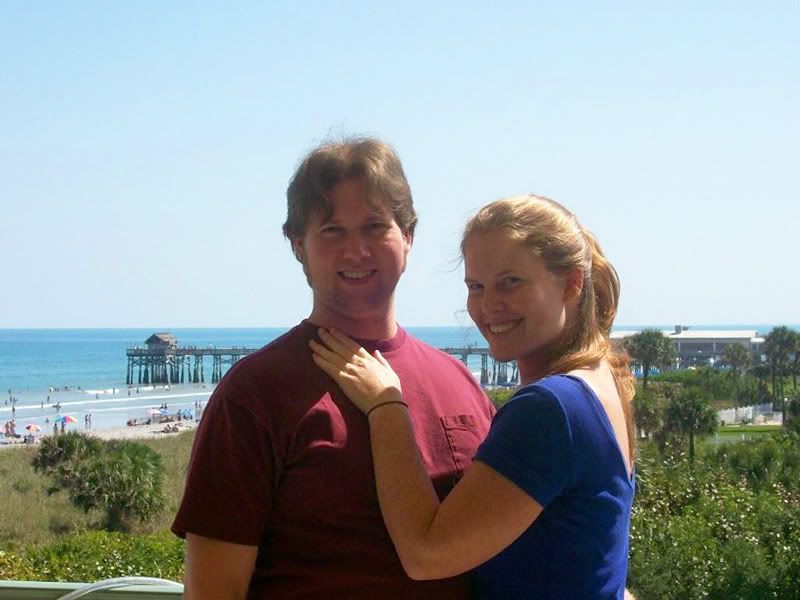 So we've spent the past few days in Cocoa Beach with Chuck's family. We won't be seeing them for another year, at least - that is if all goes as planned - so we're trying t fit in some family visiting before we head out to England. Let me tell you how beautiful it is here in Cocoa. It is SO beautiful! And relaxing. It's like a vacation. Living here would be like a never ending vacation (well, except for the whole going to work part). There are a number of good places to eat here too. Chuck and I are always into the eating thing...
Our favorite place so far is
Slow & Low BBQ
. Oh man, they have some good mashed potatoes, green beans, baked beans, pulled pork, garlic toast, and more. Highly recommended!
And
Oh Shucks
is good too. It's a great location: right on the sand of the beach, next to the pier. Looks like a great place to get a refreshing daiquiri or margarita as well.
And can't forget the
Sandbar
- one of Chuck's parents favorite places. Monday night is Mexican Mondays where if you buy a pitcher of beer you get a free order of nachos! Wooohoo! Actually, the nachos are pretty good. Wow, this really looks like a tourist's food guide to Cocoa Beach... Better move on to the actual topic of my post.
So since we arrived in Cocoa Chuck and I have been saying we need to get up and watch the sun rise over the ocean. It's hard to wake up early while on "vacation" so we didn't manage to do it until our last day there. But it was gorgeous! It's amazing how quickly the sun pops over the horizon once it begins the show. I mean, if you look away from the spectacle for five minutes it's over! It was really lovely though. We have thoughts of trying to see sunrises and sunsets all over the world on our upcoming trip. We'll see how that goes though...hehe.