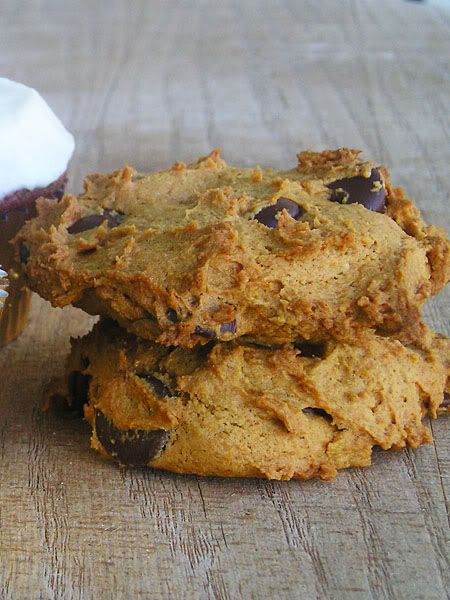 So here is the first pumpkin recipe I will share with you: Pumpkin Chocolate Chip Cookies. This was a time consuming recipe because I tried to drain the pumpkin puree of as much water as I could. See, in researching pumpkin cookie recipes I found that many complaints were that the cookie wasn't firm like a regular old chocolate chip cookie. One suggestion I came across was to squeeze the water out of the pumpkin puree so the batter/dough wasn't so moist. So I went ahead and did just that!
Notes
As I mentioned, I drained as much water as I could from the pumpkin puree. I laid a paper towel on a plate, smeared all 15 ounces of pumpkin on that and then pressed another paper towel on the puree to soak up water. Once I had soaked as much as I could I would flip the "pumpkin pancake" onto another paper towel and start again. Every once in a while (especially after a lot of water had been removed) I would mix the pumpkin up to redistribute the moisture and soak some more out. I did end up with bone dry pumpkin but it was definitely much more solid and less moist when I was through.

These cookies don't spread, rise, or change shape at all while cooking. Shape them how you want them before you pop them in the oven because every ridge and spike will still be there when they come out!

Instead of using the suggested amounts of cinnamon, nutmeg, clove and ginger I used an equal mixture of pumpkin pie spice, cinnamon, nutmeg, and ginger.
The Verdict
Mr. C thought they were pretty yummy. I thought they were good as well - surprisingly I liked them best once they had cooled. Mr. C brought the leftovers to work with him and I believe there was only one left when he brought the tray back home. And finally, the people who received them in my pumpkin-treat-gift-box liked them, but I believe they enjoyed the muffins and cupcakes more. They did still end up muffin-y, but I think the drying-out process did help make them a little heavier than they otherwise would have been.
I found the recipe at
YumSugar
:
Ingredients
2 1/2 cups flour

1 tsp salt

1 tsp baking soda

1 tsp cinnamon

1/2 tsp nutmeg

1/2 tsp clove

pinch of ground ginger

1/2 cup (1 stick) butter, room temperature

1 cup brown sugar

1/2 cup sugar

1 egg, room temperature

15 oz can of pure pumpkin

1 tsp vanilla extract

1-2 cups chocolate chips (I used dark chocolate - yum!)
Makes about 26 or so cookies.
Directions
Preheat oven to 375 F.


Sift together (or whisk in small bowl) flour, salt, baking soda, cinnamon, nutmeg, clove and ginger together and set aside.


Beat butter, brown sugar and sugar together in a large mixer bowl. Add the pumpkin and vanilla and mix until incorporated. Then add the egg and beat well until fully incorporated.


Gradually (I do it in 3 batches) beat the flour mixture into the wet mixture. Stir in chocolate chips.


Drop rounded spoonfuls onto baking sheets lined with parchment paper and bake for 13-15 minutes until edges start to brown. Remove from oven and let sit on hot baking sheet for 2 more minutes.


Move cookies to wire rack to cool completely.
And I have an extra something I need to tack onto the end here... My friends Dela and Adam know how much I like the movie
The Matrix
so they sent me a spoof video called
The Matrix Runs on Windows
. It cracked me up so I have to share it: