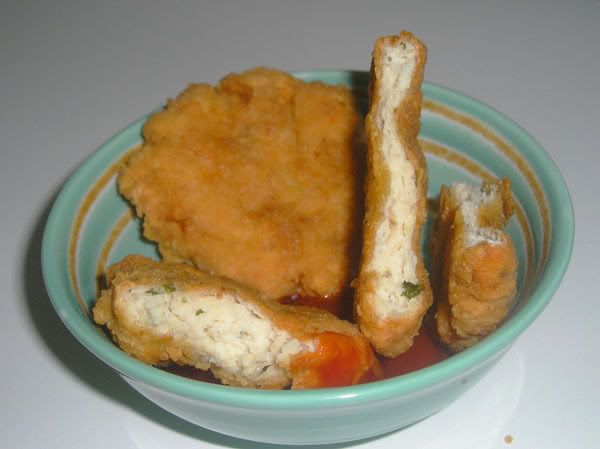 Tonight I decided to try a chicken nugget recipe I found on
For the Love of Food
for McDonald's style chicken nuggets. I was really just intrigued by the idea of throwing my chicken into a blender! That sounded kinda fun. Apparently it's the secret to many fast food chicken nuggets. You learn something new everyday...
It was a bit of an adventure actually. Not the chicken-blending, but the oil-heating. I filled a pan with about 3/4" of
Canola oil
and set the stove to medium so it could heat up while I prepared the chicken. I've only ever deep fried something once before, so I really don't know how best to handle hot oil. When it started smoking a lot, I wasn't exactly sure what to do! I didn't know if that meant it was
too
hot, or if Canola is not good for frying, or what it was. Common sense told me to turn down the stove a bit though. I also flipped on the stove fan, opened the window, locked myself in the kitchen (so the smoke didn't set off the fire-alarm in the main part of the apartment), and worked as fast as I could to get all my little chicken balls flour-coated and ready for frying. My eyes were watering and I was inhaling smoke with each breath! But I pushed through, like a true warrior, and managed to get my first batch into the pan. Ok, so it wasn't that bad. But I was relieved to finally be cooking!
Everything went smoothly from there. No problems with the oil. It cooked the little nuggets (or patties in my case) to crispy, golden goodness. After about 4 minutes I would lift one with my fork to check that it was golden enough before I flipped them all.
Notes
I made them too thin! They ended up 1/4-1/2" thick. I would make them thicker next time.

After reading in the original recipe that some people thought they weren't flavorful enough I was sure to add a bit more onion powder to the chicken mixture and added salt and garlic salt to the flour mixture. However, I think for my nuggets (because I made them too thin) it made them too salty. I wouldn't change the recipe if I made them again.
The Verdict
Overall I thought they turned out pretty good! My boyfriend, Mr. C, really liked them too. That means they must be good! Although I thought they were a bit too salty, Mr.C thought they were just right. It all depends on how much you like salt. I would make these again I think - if only to plump them and reduce the salt. Then I could give a final verdict.
And without further ado, here's the recipe, from
For the Love of Food
!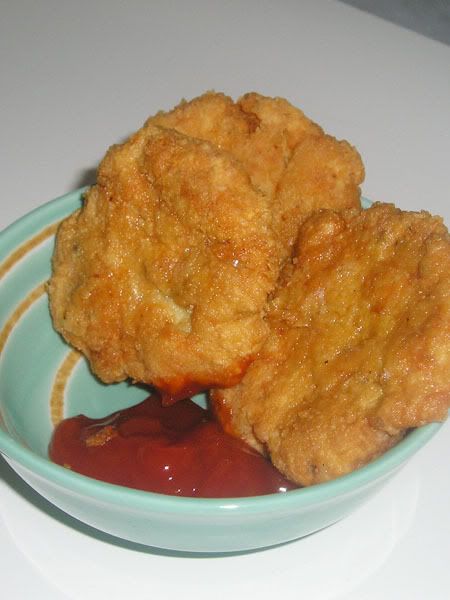 Ingredients
2 boneless skinless Chicken Breasts (that's 4 breast fillets)

1 teaspoon of Salt

1/2 teaspoon of Parsley flakes

1/2 teaspoon of Oregano

1/4 teaspoon of Onion powder

1/4 teaspoon of Pepper

2 Eggs, beaten

1 Cup of Flour

about 1.5 Cups of Oil for frying (I used Canola oil)

Makes about 34 nuggets
Directions
Heat oil in a heavy-duty skillet (like a cast iron skillet) on medium-high heat while preparing the chicken nuggets - it should be ready to work with once half of your nuggets are ready to go in.


Cube chicken and place in a food processor. Blend chicken until it has all been taken apart and is a fine paste. Remove to a bowl and add salt, parsley, oregano, onion powder, and pepper, and combine well.


Pour out flour on a plate and have your beaten eggs in a small bowl ready to work with.


Roll the chicken paste mixture into 34 ping-pong ball-sized balls (smaller than a golf ball).


Roll a "chicken ball" in flour, then in egg, and then in flour again. Then, press the ball down to make a nugget. Watch this video to see how to do it. Set nuggets aside.


Sprinkle the hot oil with some flour and if it bubbles really quickly right away, your oil is ready for frying. Place as many nuggets as possible in the oil, and fry until the bottoms are golden, turn and fry until the other side is golden. Will take about 4-5 minutes per side. Remove to a towel-lined plate (to catch any excess oil).


Serve with honey or honey mustard (1 Tablespoon of honey 1 teaspoon of mustard) or spicy honey mustard (1 Tablespoon of honey 1 teaspoon of mustard a few dashes of your favorite hot sauce) or catchup or ranch dressing - get the idea? Just use your favorite condiment(s).