Last night I made some yummy Chicken n' Biscuits using a recipe I found on the wonderful
Coconut & Lime
blog. I've never had Chicken n' Biscuits before, but it always sounded like yummy, down-home, southern comfort food. I actually have 3 different recipes for this meal - I'm wondering if I should make them all and see which I like best... That sounds like an awful lot of work, but it could be fun! I'll wait on that idea though.
The cooking process went just fine with no surprises. The recipe is quite straight forward and simple. I only made one addition, which I noted in my Notes.
Notes
The dough wasn't as thick as I was expecting. I used my little blender's food processor add-on thing to mix all the ingredients exactly as the recipe says, but the dough was too sticky and thin to be able to roll out and use cookie cutters on (and I was so looking forward to pumpkin and angel shaped biscuits!!). The biscuit topping was delicious just the way it was though. I used my fingers to spread gobs of the dough across the chicken mixture and it turned out fine.

I added about 1 teaspoon of powdered chicken broth to the chicken mixture along with the milk. It just gave it a little extra flavor.

Because I don't like boneless skinless chicken due to a bad experience once, I used boneful skinful chicken thighs, boiled them, then stripped them into chunks of chicken. So feel free to do the same if you too prefer a variety of meat texture!
The Verdict
I liked this meal a lot! I had 3 servings actually...! And Mr. C thought it was really good too (although he only had 2 servings). I would definitely make this again. Very very good comfort food.
And without further ado, here's the recipe, from
Coconut & Lime
!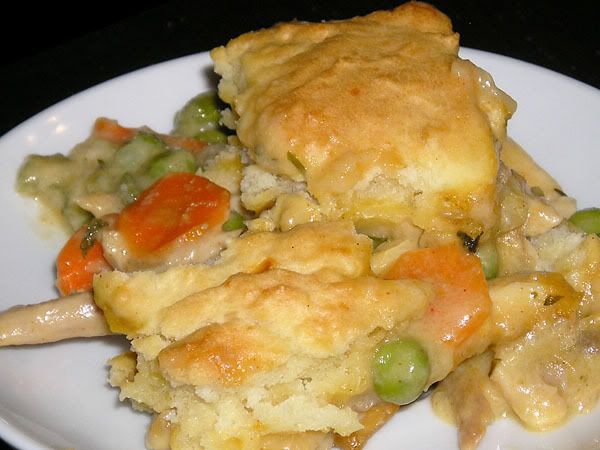 Ingredients
Biscuit Topping
1 1/2 cups Flour

2 1/2 teaspoons Baking Powder

1 teaspoon Sugar

1/2 teaspoon Salt

6 tablespoons Butter, cold

1/2 cup Milk

1 Egg, at room temperature
Chicken Mixture
1 lb boneless skinless Chicken Thighs, cut into 1 inch cubes

2 1/2 tablespoons Butter

1 medium Onion, finely diced

4 cloves Garlic, minced

3 Carrots, finely diced

3 stalks Celery, finely diced

1 teaspoon Mustard Powder

1/4 teaspoon Thyme

1 teaspoon Hot Paprika

1 tablespoons Fresh Parsley

1/4 teaspoon Sage

1 teaspoon Salt

1/4 teaspoon Pepper

1/4 cup Flour

2 cups Milk

1 cup Frozen Peas
Makes 6-8 servings.
Directions
Preheat oven to 425 F.


For Biscuits: In a food processor, pulse dry ingredients. Add butter and pulse until barely mixed. In a small bowl or cup, mix egg and milk. Pour into food processor, pulse until a dough forms. Remove to a flour dusted surface, knead 5 times then roll out. Using a biscuit cutter or glass cut out circles. Set aside.


For Chicken Mixture: In a large pan saute the onions in butter until just beginning to brown. Add garlic, celery, carrots, mustard powder, thyme, paprika, parsley, sage, salt and pepper. Cook 4-5 minutes or until they begin to soften. Add chicken and saute until thighs are browned, 5-10 minutes. Add the flour and cook 1-2 minutes and add half of the milk. Cook over medium heat, stirring until thickened. Add the remaining milk and cook over medium low heat, 10 minutes, stirring occasionally. Remove from heat and add frozen peas.


Pour into a medium sized casserole dish. Top with biscuits. Bake 20-25 minutes or until the crust is golden brown.