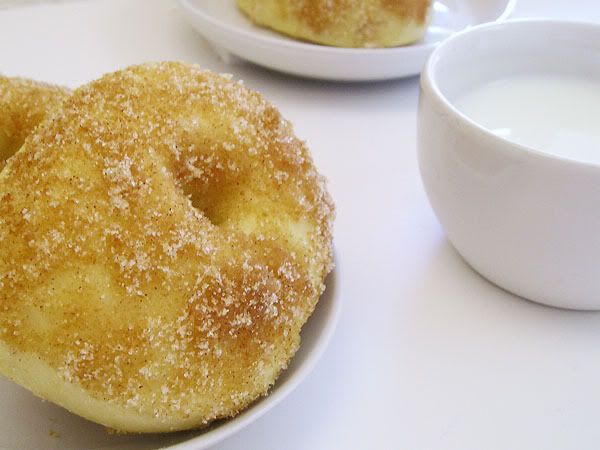 I often find myself being bitten by the sweet-bug and wanting to make yummy, delicious, satisfying desserts. This dessert (can a breakfast food be considered a dessert?) didn't require that I go to the store so it was the winner! Besides, I haven't made anything that needed to "rise for one hour" in a while. I always liked coming back and seeing that my dough had grown.
My yeast was...well, it said "best if used by Oct 2007," but I figured it would probably still be fine. I think it was. I do think I added too much flour though. I'm really not sure though - although I have worked with dough like this before, I still don't really know what I'm doing! I don't know if I over-flour my dough or if it's supposed to be sticky and tacky. I think it would be helpful to have one of those mixers with a
dough hook
, but I don't have that kind of money. I just use my elbow grease!
Either way, they came out tasty. Fresh out of the oven and freshly buttered and sugared they're really good! After a day they're a little bit tough, but still good. And if you pop it in the microwave for 10-15 seconds it's even better.
As for how they compare to a
"real" doughnut
, they are quite different. These basically taste like a pretzel with cinnamon and sugar on top. At least I don't feel
quite
as guilty eating the baked doughnuts because they're not deep fried... They're still sinful though!
Notes
I added probably 1 cup of extra flour to get a dough that didn't stick to everything... I don't know if that was right or not though. So maybe they would be a little lighter without the extra flour.

I used a plastic cream cheese container as the doughnut-cutter. I cut the top inch of the container off with a knife to get a nice sharp edge. Then I used the cap of a soda bottle to cut out the doughnut hole. Worked pretty well!

I only buttered and sugared one side of the doughnuts and they're almost too sweet, so I don't recommend sugaring both sides.
The Verdict
These are pretty good. They really reminded me of cinnamon buns to be honest. I think they would probably be better if I was better at working with dough too. But they are very tasty! And Mr. C liked them fresh out of the oven, but hasn't been as in love with them since then.
And here is the recipe from
101 Cookbooks
: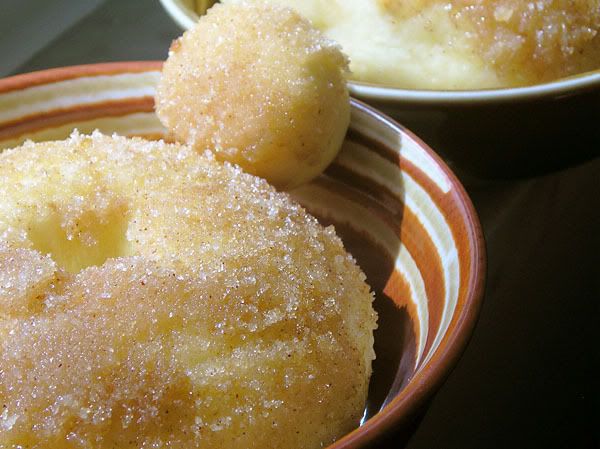 Don't over bake these, if anything, under bake them a bit - they will continue baking outside the oven for a few minutes. You want an interior that is moist and tender - not dry. Also, be sure to cut big enough holes in the center of your doughnuts - too small and they will bake entirely shut. Remember they rise, and they rise even more when they are baking. These really need to be made-to-order, but you can make and shape the dough the night before if you want to serve them for brunch. Instructions: after shaping, place doughnuts on baking sheet, cover and place in the refrigerator overnight. Pull them out an hour before baking, and let rise in a warm place before baking.
Ingredients
1 1/3 cups warm milk, 95 to 105 degrees (divided)

1 packet active dry yeast (2 1/4 teaspoons)

2 tablespoons butter

2/3 cup sugar

2 eggs

5 cups all-purpose flour (alternately, white whole wheat might work - haven't tried it yet)

A pinch or two of nutmeg, freshly grated

1 teaspoon fine grain sea salt


1/2 cup unsalted butter, melted

1 1/2 cups sugar (I used half white and half brown sugar)

1 tablespoon cinnamon
Makes about 36 doughnuts.
Directions
Place 1/3 cup of the warm milk in the bowl of an electric mixer. Stir in the yeast and set aside for five minutes or so. Be sure your milk isn't too hot or it will kill the yeast. Stir the butter and sugar into the remaining cup of warm milk and add it to the yeast mixture. With a fork, stir in the eggs, flour, nutmeg, and salt - just until the flour is incorporated. With the dough hook attachment of your mixer beat the dough for a few minutes at medium speed. This is where you are going to need to make adjustments - if your dough is overly sticky, add flour a few tablespoons at a time. Too dry? Add more milk a bit at a time. You want the dough to pull away from the sides of the mixing bowl and eventually become supple and smooth. Turn it out onto a floured counter-top, knead a few times (the dough should be barely sticky), and shape into a ball. (Since I don't have a large mixer with a dough hook I used my hands to knead the dough right in the bowl, then kneaded some more on my floured surface)


Transfer the dough to a buttered (or oiled) bowl, cover, put in a warm place (I turn on the oven at this point and set the bowl on top), and let rise for an hour or until the dough has roughly doubled in size.


Punch down the dough and roll it out 1/2-inch thick on your floured countertop. Most people (like myself) don't have a doughnut cutter, instead I use a 2-3 inch cookie cutter to stamp out circles. (Like I mentioned, I used a plastic cream cheese container as my doughnut cutter - you could also maybe use a small bowl). Transfer the circles to a parchment-lined baking sheet and stamp out the smaller inner circles using a smaller cutter. (I used a plastic soda bottle cap). If you cut the inner holes out any earlier, they become distorted when you attempt to move them. Cover with a clean cloth and let rise for another 45 minutes.


Bake in a 375 degree oven until the bottoms are just golden, 8 to 10 minutes - start checking around 8. While the doughnuts are baking, place the butter in a medium bowl. Place the sugar and cinnamon in a separate bowl.


Remove the doughnuts from the oven and let cool for just a minute or two. Dip each one in the melted butter and a quick toss in the sugar bowl. Eat immediately if not sooner.