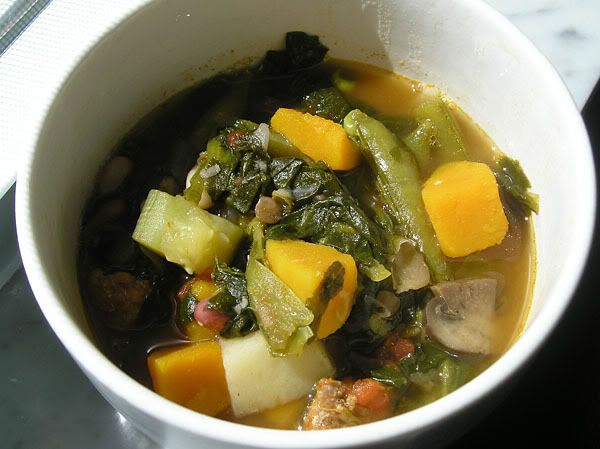 After being inspired by
this post
on
Craftster.org
about cheap meal ideas, I decided to make a bean soup. I've made a bean soup once before and it turned out really good, so it's high time I make another one. The fun part about bean soups (and many other soups I guess?) is that you can just throw whatever sounds good in there. So while at the grocery store I just looked for some inexpensive veggies.
The butternut squash turned out to be delicious with its subtle burst of sweetness! And the spinach adds a lot of body. I think the spinach (and the beans) help to soak up some of the liquid so it turns out to be a thick soup. But I like thick soups. Yum.
Oh, I would like to mention that I added up the cost of all the ingredients and it cost about $13.50 to make this gigantic pot of soup. I'd say at
least
15 servings, if not more. I think that's a good deal for the budget!
Notes
I used chorizzo because I had some left over from a recent weekend BBQ, but any sausage/meat/whatever would obviously work. You don't even need any meat!

There's not much to note because this "recipe" is more like an outline. Like taking notes in school.
The Verdict
I think this turned out to be delicious! I love all the different veggies, especially the butternut squash. And it made so much soup that I won't soon go hungry...
Here's the recipe for this particular soup: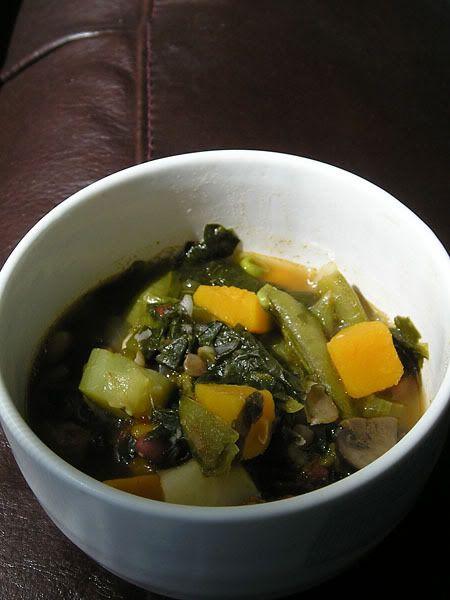 Ingredients
Lots of Water

1 lb bag dry 15-Bean Mix (or whatever beans you choose to use)

1 Tbsp Olive Oil

1/2 lb Chorizzo (or other sausage), pinched into little balls

1 Onion, diced

4 cloves Garlic, minced

1.25 lb Butternut Squash, peeled and diced

3 White Potatoes, diced

1 Zuccini, diced

3 stalks Celery, diced

3 Carrots, peeled and diced

10 oz Frozen Snap Peas

10 oz Frozen Spinach

15 oz can Mexican Style Sliced Stewed Tomatoes

4 oz Baby Bella Mushrooms, sliced

1 tsp Chicken Broth powder

White Pepper (Black is fine too), to taste

Salt, to taste
Makes a lot of servings!
Directions
Place beans in a large pot, fill with water and leave to soak over night (or at least 8 hours). Make sure to fill water a couple inches over the beans because they will soak up a lot of water and expand over night.


Once soaked, drain beans and rinse them. Place them in a very large pot (like a large pasta pot) and fill with water. Don't fill too much right now, you can always add more as the pot fills up with all the other veggies. Put the pot on high heat, bring to a boil then simmer.


While it's coming to a boil heat the olive oil in a saute pan and add the garlic, onion, and chorizzo. Once the chorizzo is nearly cooked drain off the extra oil and add to the bean pot.


Chop all your veggies and just drop them in as you go along. I didn't defrost or drain the frozen spinach and Snap Peas and I only drained a little liquid off the tomatoes before adding them.


Add the chicken broth, salt, and pepper as you go along and feel free to add any other herbs or spices you like. Let all the flavors simmer together for a while until your veggies are as soft as you like them.